B-2 bomber cockpit shown FROM INSIDE for first time in air refueling VIDEO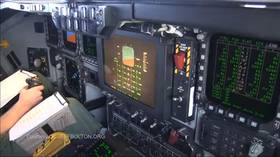 The highly secretive US strategic bomber, the B-2 Spirit, has become a bit less of a mystery after the US military allowed footage to be recorded from inside its cabin for a new multimedia project.
The video was shot by radio host and film producer Jeff Bolton for an upcoming documentary. It shows an in-air refueling of a B-2 stealth bomber as viewed both from outside and inside the aircraft's second pilot seat.
Bolton was allowed into the Whiteman Air Force Base in Missouri, the permanent deployment site for the US fleet of B-2s as part of his work on the film. He spoke about his experience with Defense News, an outlet to which he has been contributing.
"The workload in there for two people is just outrageous. The systems and processes that you have to understand to operate the jet are enormous. The teamwork and coordination involved between the ground and the pilots and between the pilots themselves, between the planners and the pilots – I've never seen anything like it," he said.
The B-2 Spirit long-range bomber, distinctive for its unusual 'flying wing' hull, has been operational since 1997. A total of 21 aircraft were produced and one was lost in an accident in 2009.
Also on rt.com
US Strategic Command boasts about its bombs in disturbing New Year message
Originally designed as a platform for nuclear weapons capable of penetrating enemy air defenses, it has been used for combat missions since the bombing of Kosovo in 1999 – during which it dropped five guided bombs on the Chinese Embassy – and in consequent American air wars in Afghanistan, Iraq and Libya. The aircraft is also deployed by the US Strategic Command for show-of-force flights.
Like this story? Share it with a friend!
You can share this story on social media: