US prison sentence for Butina a 'travesty of justice' – Putin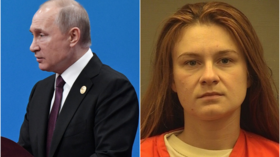 The US government knows that Russian gun activist Maria Butina isn't guilty of a crime, but sentenced her to prison anyway to avoid embarrassment, Russian President Vladimir Putin has claimed.
"[The US] is just trying to save face," Putin said while speaking at the 2nd Belt & Road Forum in Beijing on Saturday.
"There's nothing they can charge [Butina] with, so to avoid looking ridiculous, they decided to slap her with 18 months in prison."
The Russian president described Butina's 18-month prison sentence as "a travesty of justice."
The Russian gun activist arrived in the US in 2016 on a student visa. As part of her political activities, she made contacts within the National Rifle Association (NRA). She was arrested in July 2018 and charged with failing to register as an agent of the Russian government – what essentially amounts to working as an unregistered lobbyist.
Tellingly, her case was never part of Robert Mueller's investigation into alleged collusion between the Trump administration and the Kremlin. However, the media still had a field day with her arrest, even wrongfully reporting that Butina traded sex for political favors.
Also on rt.com
Butina's verdict 'impossible to separate from politics,' sets a dangerous precedent – her lawyer
Following months of what the Russian Foreign Ministry described as "borderline torture" in jail, she pleaded guilty to the charge in December.
On Thursday she was sentenced to 18 months in prison, of which she has already served nine.
Like this story? Share it with a friend!
You can share this story on social media: