'We have no secrets from US': Putin says he is ready to tell Trump about Kim talks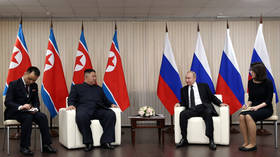 Vladimir Putin said North Korea will give up nuclear weapons, but fears for its security if it does so, and added he was prepared to share the results of his landmark meeting with Kim Jong-un with Donald Trump.
"I got the impression that Kim Jong-un is interested in denuclearization, all North Korea needs is guarantees of its security and sovereignty," the Russian president said during the press conference in the aftermath of his talks with the North Korean leader in Vladivostok which ran hours over the allotted time.
Putin insisted that the only means for such guarantees is to ensure that international law triumphs over "rule of strength," though noted that it was too early for specifics on how the denuclearization process would be structured.
Also on rt.com
Putin welcomes Kim's efforts to normalize ties with US, hopes for denuclearization talks progress
Saying that Russia and the US are both against the proliferation of weapons of mass destruction – much as they may argue about the methods – Putin revealed he was open to relaying the content of his talks to Donald Trump.
We are going to discuss the situation with the US. Russia is always open on this – there are no conspiracies. More than that Kim Jong-un personally asked us to inform Washington of his position and the issues he wants to ask about.
Putin, who had previously met Kim's father Kim Jong-il during a similar summit back in 2002, described the current North Korean leader as "interesting to talk to" and "ready to discuss any subject freely."
Also on rt.com
Putin and Kim give each other same gift… a sword (PHOTO, VIDEO)
But asked if Kim is ready to make more concessions after his last talks with Trump ended in a stalemate, Putin said: "I believe there is no other way, but what he is or isn't ready to give up – you have to ask him that."
North Korea did not issue a statement or send a representative after the two-way talks in Russia. Nonetheless, Putin spoke warmly of opportunities for economic cooperation with North Korea. He also urged South Korea to act with more independence from the United States in reaching out to Pyongyang.
Think your friends would be interested? Share this story!
You can share this story on social media: