Putin and Kim give each other same gift… a sword (PHOTO, VIDEO)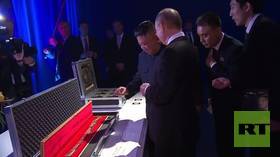 Kim Jong-un spoke about his country's "strength" as he exchanged weapons as presents with Vladimir Putin during their first-ever meeting in Vladivostok on Thursday.
The Russian president led his North Korean counterpart through the traditional gift-giving ceremony that accompanies landmark international summits, first offering him a set of handmade gilded glasses.
But the highlight was a Russian curved saber that Putin unsheathed as he offered it to the North Korean leader.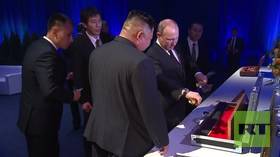 As is customary when gifting blades, to avoid bad luck the Russian president included a coin with the sword, which Kim then 'paid back' to him.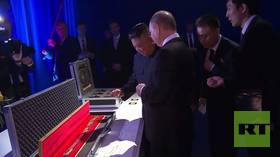 Kim Jong-un then did the reverse, apresenting a traditional straight Korean sword to the Russian president, with a coin of his own.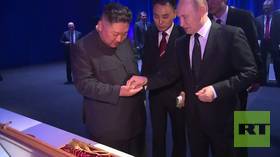 "It represents strength, it represents the soul - mine and that of our people, who support you," said the North Korean leader.
Putin and Kim spent twice the allotted time during their face-to-face in the Russian Far East, in what was the first ever face-to-face meeting between the two leaders ever.
If you like this story, share it with a friend!
You can share this story on social media: