'Ungrateful': Fox host Tucker Carlson claims Ilhan Omar is 'attacking country that took her in'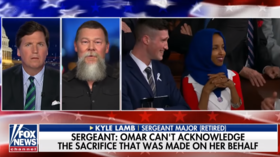 Fox News host Tucker Carlson lashed out at Democrat Rep. Ilhan Omar for being "ungrateful" and accused her of "spending her life attacking this country" in light of an old tweet by the congresswoman about US action in Somalia.
Carlson's outburst was in reference to a resurfaced tweet of Omar's from 2017 in which she noted the high number of Somalis killed by US forces during the 1993 battle in Mogadishu.
Eighteen US soldiers and hundreds of Somalis were killed in the botched US-led, but UN-backed, operation to capture allies of a Somali military commander. Two US helicopters were shot down and footage of dead American soldiers being dragged through the streets resulted in a huge public backlash against US involvement, and saw US troops withdrawn from Somalia months later.
Omar fled Somalia as a child and spent four years in a Kenyan refugee camp before gaining entry to the US in 1992.
READ MORE: Twitter eats 'every last drop' of Tucker Carlson's weird moment on air
Carlson accused the congresswoman – who by the time of the disastrous operation in Mogadishu had already fled her home country – of being ungrateful to the US troops who he claimed saved 100,000 Somalis.
"Here's someone who was brought to the United States at public expense simply because we're a kind country that accepts a lot of refugees," Carlson said.
"And rather than being grateful for that, she's spent the rest of her life attacking this country. Why?," Carlson asked Kyle Lamb, a retired sergeant major who fought in the Mogadishu battle.
"As they would say down here in Tennessee, 'Bless her heart'," responded Lamb. "We want her to understand she's living large now because of her family being able to escape the atrocities of Mogadishu."
Also on rt.com
Rep. Ilhan Omar cites Islam holy text in response to Trump mocking her for not liking Israel
Omar, one of the first two Muslim women to be elected to Congress, has been a divisive figure since her election. US President Donald Trump recently accused the congresswoman of being "out of control" after her comments about the stigma towards American Muslims since 9/11.
Like this story? Share it with a friend!
You can share this story on social media: