Twitter eats 'every last drop' of Tucker Carlson's weird moment on air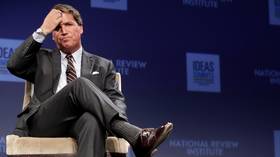 FOX News host Tucker Carlson took more heat than light on Twitter after he somehow compared the media to cannibals, who want to devour 2020 presidential candidate Pete Buttigieg.
"They don't just want to vote for this guy," Carlson said. "They want to consume him, like a hearty stew. Every last drop of Buttigieg – yum!" Carlson said Buttigieg had replaced former Texas congressman Beto O'Rourke as a "younger, hotter candidate."
The host apparently came off as a bit overzealous in the odd segment, and people were quick to give their take on it.
"If I was Pete Buttigieg, I would go straight to the local police station to get a restraining order against creepy @TuckerCarlson ASAP," one user tweeted.
Another person had some practical advice for the TV host.
"Use a spoon, @TuckerCarlson, you'll want to get EVERY DROP."
Buttigieg, the South Bend, Indiana mayor, is a rising star among the Democratic Party's 2020 presidential lineup, garnering a wave of media attention in recent weeks. He officially launched his campaign on Sunday.
You can share this story on social media: