'She is out of control!': Trump takes fresh aim at Ilhan Omar after 9/11 furor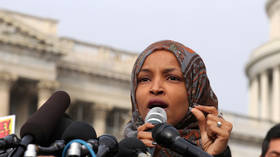 US President Donald Trump has doubled down on his heated criticism of Democrat Ilhan Omar, accusing the congresswoman of anti-Semitism and claiming "she is out of control."
Twitter erupted on Friday after Trump tweeted a video showing scenes of the 9/11 terrorist attacks intercut with a quote from Omar. Addressing the Council on American-Islamic Relations (CAIR) earlier this month, Omar commented about the stigma towards American Muslims in the wake of 9/11. However the video Trump shared took just one sentence from her speech, saying that "some people did something" on 9/11.
Also on rt.com
Twitter split in half over Omar again, after Trump posts clip of her 'downplaying' 9/11
The response online was swift: Social media users sent messages in droves either accusing Omar of minimizing 9/11 and being un-American, or to accuse Trump of intentionally taking her line out of context and potentially endangering her life.
Tweeting on Monday, Trump showed he wasn't prepared to back down over the furor, accusing Omar of making "anti-Semitic, anti-Israel and ungrateful U.S. HATE statements" and calling on top Democrat Nancy Pelosi to step in.
Before Nancy, who has lost all control of Congress and is getting nothing done, decides to defend her leader, Rep. Omar, she should look at the anti-Semitic, anti-Israel and ungrateful U.S. HATE statements Omar has made. She is out of control, except for her control of Nancy!

— Donald J. Trump (@realDonaldTrump) April 15, 2019
Pelosi had earlier called on Trump to take down the video tweet, adding she has serious concerns for Omar's safety due to the resulting outcry against the congresswoman.
.@realDonaldTrump's dangerous video must be taken down. I have spoken with the Sergeant-at-Arms to ensure that Capitol Police are conducting a security assessment to safeguard Rep. @Ilhan Omar, her family & her staff. They will continue to monitor & address the threats she faces. pic.twitter.com/Grb9c8S18d

— Nancy Pelosi (@SpeakerPelosi) April 14, 2019
In a Twitter thread responding to Trump's video post, Omar said that no one could threaten her "unwavering love for America."
No one person – no matter how corrupt, inept, or vicious – can threaten my unwavering love for America. I stand undeterred to continue fighting for equal opportunity in our pursuit of happiness for all Americans.

— Ilhan Omar (@IlhanMN) April 13, 2019
Also on rt.com
Rep. Ilhan Omar cites Islam holy text in response to Trump mocking her for not liking Israel
Think your friends would be interested? Share this story!
You can share this story on social media: