Erdogan fires back at France's 'bloody past' on day of 1st Armenian genocide commemoration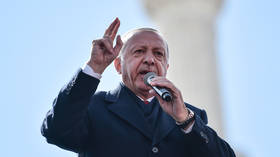 Turkish President Recep Tayyip Erdogan has accused France of hypocrisy on the latter's first national day of commemoration of the Armenian genocide, citing Rwanda and Algeria as example of France's own historic misdeeds.
"If we look at those trying to give lessons on human rights or democracy to Turkey on the Armenian question and the fight against terrorism, we see that they all have a bloody past," Erdogan said in a televised speech Wednesday, during a symposium on archives and historical research.
"France in particular, do not have any intention of seeking the truth, and we want the entire world to know it, too," Erdogan continued, adding that, "It is evident who murdered just 25 years ago 800,000 people in Rwanda during that genocide, and its perpetrators were French. Now, the French attempt to lecture us."
Also on rt.com
5 times Macron gave other leaders advice, and he now boasts an approval rating of… under 30%
On April 24, 1915 thousands of Armenian intellectuals were rounded up, and the date is considered by many to mark the beginning of the Armenian genocide, in which some 1.5 million people were systematically murdered between 1915 and 1923 by the Ottoman Empire.
France's recognition of the genocide was enshrined in law in 2001 and the official national day of commemoration resulted from a pledge made by French President Emmanuel Macron upon his election.
Turkey has long-denied the killings were systematically orchestrated and therefore do not constitute a genocide.
The official Turkish version of events is that there is insufficient archival evidence to prove genocide occurred, and that some Armenians in eastern Anatolia were 'relocated' after they sided with invading Russian forces and revolted against Ottoman forces.
Turkish police reportedly blocked around 100 protestors, including some French and European MPs, who attempted to hold their own commemoration ceremony on the streets of Istanbul on Wednesday.
Also on rt.com
'Sherlock Holmes of Armenian Genocide' claims new evidence definitively ends case for denial
France and Turkey have long engaged in diplomatic sparring with bombastic and abrasive rhetoric shared back and forth.
"France is the last country to teach Turkey a lesson on genocide and history. We haven't forgotten what happened in Rwanda and Algeria," Turkish Foreign Minister Mevlut Cavusoglu said during a recent NATO meeting in Turkey, causing the French delegation, led by French lawmaker Sonia Krimi, to storm out in protest.
Think your friends would be interested? Share this story!