'They're godfathers now' – Germany's most famous bodyguard on powerful Arab street gangs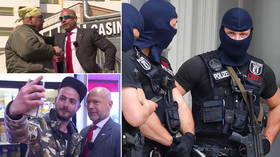 A famed bodyguard, who protected the likes of Hollywood A-lister Sean Penn, provided RT Deutsch with a unique insight into the life of powerful Arab street gangs which are thriving in the German capital.
The ruthless Arab street gangs gained momentum in the 1990s, "pushing aside local German groups and taking Berlin's nightlife under control," Michael Kuhr told RT Deutsch as he strolled down a working-class neighborhood with many migrant residents.
They're godfathers now, totally controlling [crime in Berlin], including drugs, prostitution, and shadow money.
The Arab clans are extremely dangerous and, given their close-knit nature, they "can bring together 40 to 50 people in just half an hour," he stated. "Throughout the night, they are ready to cut and kill. If they have a gun, they are ready to shoot and kill," Kuhr added.
Also on rt.com
Berlin vows to finally crack down on Arab criminal gangs that have plagued city for DECADES
A former world kickboxing champion and one of the most well-known bodyguards in Germany, Kuhr said he is a "fan" of multiculturalism. However, many migrants resorted to crime because the government failed to integrate them into society, and later made the grave mistake of underestimating the threat posed by the gangs, he said.
Government policies have completely failed. The authorities totally underestimated the situation. They are trying to minimize the damage but it is not an easy thing to do.
The gangs have been a growing source of concern for the German authorities for quite some time. Some criminal groups have been active in Berlin and other German cities for almost half a century, as their first members arrived in Germany in the 1970s. Over the years, they have built extensive criminal networks comprised of hundreds of members.
The gangs are also responsible for thousands of crimes every year. In the German western states of North Rhine-Westphalia alone, clan members committed 14,225 documented offenses between 2016 and 2018, according to police data. The list of the offenses included violent crimes, property crimes as well as fraud and drug-related offenses.
Also on rt.com
Arab crime clans in Germany sweep up new members from refugee ranks – report
Police also identified as many as 6,449 suspects living in North Rhine-Westphalia alone, who have gang links. A March report by the German Die Welt daily revealed that the number of criminal gangs operating in the state amounted to 108 – twice as many as was previously thought.
An earlier estimate by the German federal criminal police, dated 2015, suggested that, on the nationwide scale, the total number of people belonging to large criminal clans might amount to as many as 200,000, although not all of them might be involved in criminal activities. In comparison, the total number of police officers in Germany amounts to 270,000 people, according to the German public broadcasting radio station, Deutschlandfunk.
Currently, law enforcement in Berlin has a separate investigative team that deals primarily with "organized crime among the families of Arab origin," police spokesperson Thilo Cablitz told RT.
Also on rt.com
Arab 'mafia' infiltrates German police, state services – German police union official
In late March, Berlin police carried out the largest raid of its kind, targeting Arab criminal gangs. The operation was a part of the 'zero-tolerance strategy,' a senior local official told reporters. Hundreds of officers searched hookah lounges, where they suspected the gangs laundered money, and issued fines for various offenses. In January, a similar large-scale raid was conducted in North Rhine-Westphalia.
"The fight against the clan structures is not just about [preventing] material damage," Berlin's Interior Minister Andreas Geisel told Die Welt in March. "What is more important is that these people undermine the rule of law as they violate the laws and, if the states accepts that, it will end up as a threat to democracy," he added.
North Rhine-Westphalia's Interior Minister Herbert Reul warned outright that the gangs want to "replace the state" in the areas they control and rule these territories on their own. "This has gone too far in some parts of our country," he told Die Welt in March.
Think your friends would be interested? Share this story!
You can share this story on social media: