Berlin vows to finally crack down on Arab criminal gangs that have plagued city for DECADES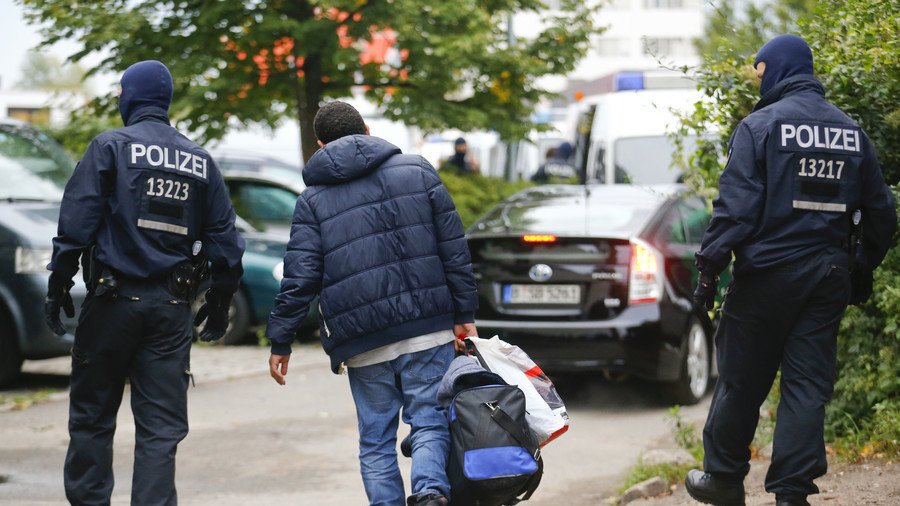 Seized by fears of being labeled xenophobic, Berlin officials have allowed a parallel world to emerge in Germany's capital – one inhabited by criminal gangs of Middle Eastern origin. But is it too late for a crackdown?
After years of inaction, Berlin law enforcement authorities are finally taking the growing issue of migrant gangs seriously. The city's government on Monday announced a crackdown on migrant criminal gangs, unveiling a five-point plan which they said would help tackle the issue. Their new crime fighting strategy includes enhanced cooperation between police and the prosecutor's office, as well as social welfare and youth services. Together they hope to crowdsource information-gathering on gang activities.
Also on rt.com
Spate of violent offenses in Germany linked to inflow asylum seekers – study
Other measures will involve harsher punishments for minor violations committed by gang members and a system of youth crime prevention, which is designed to help young gang members avoid becoming career criminals.
Ethnic clans
The exact number of the gangs or of their membership is apparently unclear. However, around a dozen such groups are known to German police. A report by the Tagesspiegel daily claims that there are several "Arab clans" that, together, comprise some 200 members. However, there may in fact be more, as members are usually extremely tight-lipped about their criminal ties.
Commonly known as the "Arab clans," these criminal groups in fact come from various backgrounds but are all of Middle Eastern origin. The list of gangs known to police includes Palestinian gangs as well as groups consisting of Turkish Kurds and refugees that fled the Lebanese Civil War, Germany's Focus magazine reports.
Also on rt.com
Arab 'mafia' infiltrates German police, state services – German police union official
The gangs are also reported to maintain ties with their countries of origin. Its members, who are often already third generation migrants, still identify themselves not as Germans but as Arabs, the daily added.
Parallel society
Over the decades, the gangs have created a parallel world in the German capital as they built their vast criminal networks consisting of numerous shady businesses financed through ill-gotten gains. Some criminal groups have been active in Berlin for almost half a century, as their first members arrived in Germany in the 1970s.
In July, Berlin police discovered and confiscated as many as 77 real estate assets belonging to just one such family, which were all bought with criminal money. The confiscated properties were worth a combined €9.3 million ($10.5 million).

The gangs are usually involved in the drug trade as well as robberies. Several such groups were behind a number of recent high-profile cases that made headlines in Germany and beyond.
High-profile crimes
In December 2014, five members of a criminal gang broke into two jewellery stores in a shopping center located in Western Berlin not far from the Berlin Zoo and the famous Tiergarten Park. Armed with axes and machetes, the masked robbers stormed the facilities in broad daylight, pepper-spraying shoppers and injuring 13 people. They managed to steal Rolex watches and jewelry worth €817,000 ($923,050) before fleeing the scene.
Although the raiders were later caught, the police still failed to find the valuables they stole, German media reported. In March 2017, another ethnic gang stole an extremely rare commemorative coin in a daring, middle-of-the-night heist that targeted the world-famous, UNESCO-listed Bode Museum in Berlin.
The coin they stole was known as the 'Big Maple Leaf' and was issued by the Royal Canadian Mint in 2007. The coin is reportedly worth €920,000 (around $1 million) in its current form. The 100kg of gold, however, would sell for roughly €3.7 million ($4.2 million) at current market value. The coin has not been found yet, with the police believing that the culprits might have actually melted it down.
Also on rt.com
Berlin police launch manhunt over baffling theft of 100kg gold coin (PHOTO)
More recently, German police report a spike in gang violence, as rival 'families' have been launching attacks against each other for weeks. In one such attack, a notorious gang member and repeat offender was shot down near the now-defunct Berlin Tempelhof Airport. Police then had to guard his funeral in order to prevent any further violence. Notably, the ceremony was attended by some 2,000 people, according to local media reports.
Fear of 'xenophobic' label?
One of the hurdles facing German law enforcement is the risk of being labeled as xenophobic for going after migrant groups – even if they're criminals.
An association of Berlin criminal defense lawyers has even questioned the notion that "clan crime" exists, arguing that the term is too vague.
Also on rt.com
Arab crime clans in Germany sweep up new members from refugee ranks – report
Hannes Honecker, the head of the association, said that speaking about "clan crime" is taking a page from right-wing populists like Alternative for Germany (AfD), a right-wing political party that is gaining traction in Germany. He added that such "depreciative" rhetoric conjures the picture of "large homogenous … criminal families, which do not exist."
Meanwhile, according to Focus, the German police have long preferred not to systematically target the ethnic gangs, treating their crimes as isolated cases instead, precisely out of fear of being labeled xenophobic.
But as the criminal gangs continue to consolidate their presence in Berlin, Germany may have to put aside political correctness and opt instead for safer streets.
If you like this story, share it with a friend!
You can share this story on social media: