'The worst is ALMOST over': 100+ killed by rain & dust storms across India and Pakistan (VIDEOS)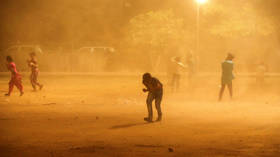 Dozens of people have been killed across India and Pakistan as heavy dust and thunderstorms sweep through the region. While the worst is over, meteorologists expect the weather front will not stabilize until Friday.
The powerful storms unleashed dust, lightning, hail, rain and high winds across northern and central parts of India on Monday, uprooting trees, damaging homes and power lines across Madhya Pradesh, Gujarat, Maharashtra and Rajasthan states.
By Wednesday at least 64 deaths had been reported across the country, mostly from lightning strikes, tree falls, and people being electrocuted by loose power lines, the Times of India reports. At least 25 deaths occurred in Rajasthan alone, while another 21 fatalities were recorded in Madhya Pradesh, 10 in Gujarat and three in Maharashtra.
"The worst is almost over," the head of India Meteorological Department, Mrutyunjay Mohapatra, said on Wednesday. "There will be a significant reduction in activity from tomorrow. By Friday it will all be over."
Besides India, the "western disturbance" front also affected neighboring Pakistan, with at least 39 deaths and 135 injuries reported there by Wednesday, the National Disaster Management Authority said.
Like this story? Share it with a friend!
You can share this story on social media: