'Assassin's Creed Unity' & art historian's laser scans may prove critical to Notre Dame restoration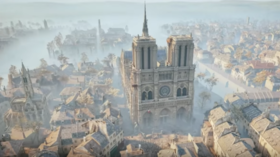 As France and the wider world mourns the blaze that gutted the iconic Notre Dame Cathedral, speculation is growing online that help in rebuilding the national treasure may come from the unlikeliest of places: a video game.
French President Emmanuel Macron vowed to rebuild the devastated building, even as some 400 firefighters were still battling the massive blaze. Meanwhile, billionaire Bernard Arnault, who controls LVMH, the company behind luxury fashion brand Louis Vuitton, pledged €200 million to restore the cathedral, and Francois-Henri Pinault, chairman and CEO of Kering Group, pledged a reported €100 million.
Also on rt.com
French billionaires pledge big donations to rebuild fire-ravaged Notre Dame
Restoring the French Gothic cathedral to its former glory is a task that will take years if not decades regardless of the resources deployed in the endeavor.
However, speculation online suggests that the work of a now-deceased art historian Andrew Tallon in combination with the two-plus years of developmental research that went into faithfully recreating the structure for Ubisoft's game 'Assassin's Creed: Unity' may provide some hope that the bold restoration project is indeed feasible.
I know this doesn't help, but we have exquisite 3D laser maps of every detail of Notre Dame, thanks to the incredible work of @Vassar art historian Andrew Tallon. Prof Tallon passed away last November, but his work will be absolutely crucial https://t.co/YJl3XXUZTg

— Hannah Groch-Begley (@grouchybagels) April 15, 2019
According to National Geographic, Tallon, who passed away late last year, used detailed laser-scanning techniques to produce 3D maps of the iconic landmark in recent years, that are reportedly "accurate to within five millimeters."
Tallon took scans, in addition to spherical panoramic photographs, from 50 locations in and around the cathedral, collecting more than one billion points of data in the process and capturing the 3D space in immense detail.
In addition to Tallon's impressive efforts, video game artist Caroline Miousse told The Verge that she had dedicated two years to modelling the cathedral down to each individual brick while working on Ubisoft's 'Assassin's Creed: Unity'.
"80 percent of my time was spent on the Notre Dame," level artist Miousse said of her time on the game built for the Xbox One and PlayStation 4 consoles. She hadn't actually seen the Notre Dame Cathedral in person when she started work on the project, but visited it upon completion.
RT.com has contacted Ubisoft for more information on any potential collaboration with the Notre Dame restoration project.
It took some 182 years to build the Notre Dame Cathedral but it remains to be seen just how long it will take for the iconic building to be restored to its former glory.
Like this story? Share it with a friend!
You can share this story on social media: