'They're good help': Russia comments on big NATO Black Sea drills as it holds own exercise (VIDEOS)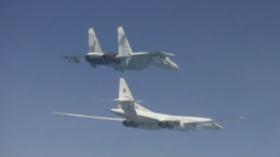 Russia has held naval maneuvers in the Black Sea as several NATO countries gathered there for 'Sea Shield 2019' exercise. Russian military "thanked" the bloc in a tongue-in-cheek fashion for making the drills more life-like.
Vessels of Russia's Black Sea Fleet have been actively training amid the Romania-led NATO drills, which concluded on Saturday, the fleet's press service has said.
"The routine combat training is going on amid the 'Sea Shield 2019' exercise of the NATO naval force, which has been a good help for the Black Sea Fleet to hone its skills in a real combat situation," it added.
READ MORE: Russian Navy tracks NATO squadron entering Black Sea (PHOTOS, VIDEO)
The Russian military has also released a bunch of videos, showing the maneuvers. The Marines loaded into and disembarked from the Azov dock landing ship, honing their skills in performing a maritime assault on an unfamiliar shore.
Like the Navy, Russian land units did not sit still. While NATO vessels were active in the Black Sea, Russian crews of Bastion and Bal anti-ship missile launchers were training as well.
Russian aviation was also active, with Tu-160 strategic bombers and Su-27 escort fighters patrolling the Black Sea together.
While the military might have sounded sardonic when it said it was 'grateful' to NATO for the training opportunity, the Russian Foreign Ministry was way more serious about the bloc's buildup in the Black Sea region. Moscow sees NATO's activities as "unambiguously negative" and will react appropriately, Deputy Foreign Minister Aleksandr Grushko has said.
READ MORE: Provoking Russia or propping up Poroshenko? NATO ridiculed over plans to 'shield' Ukrainian ships
"We believe the security in the region should be ensured through the cooperation of the Black Sea nations. All the mechanisms necessary for that are already in place," he stressed.
Also on rt.com
WATCH Russian corvettes unleash hurricane-like gunfire in Baltic Sea
Think your friends would be interested? Share this story!
You can share this story on social media: