WATCH Russian corvettes unleash hurricane-like gunfire in Baltic Sea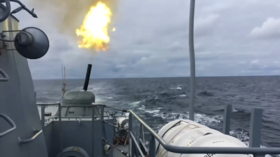 New footage from the Defense Ministry shows Russian corvettes flexing their muscles as they roll out big guns and practice hitting aerial targets during a naval drill in the Baltic Sea.
Bursts of flames can be seen in close-up shots of different guns rotating and providing rapid fire. A total of six guided-missile corvettes from Russia's Baltic Sea Fleet participated in the naval drill. Its main task was to practice repelling aerial attacks.
Moscow had earlier conducted a drill in the Black Sea where a pair of corvettes successfully launched the supersonic anti-ship missile, P-270 Moskit ('Mosquito'), capable of destroying an enemy some 55km away.
Russian naval maneuvers coincided with the NATO 'Sea Shield 2019' exercise, which concluded on Friday. The Russian vessels were closely tracking the ships of the US-led bloc at all times, defense officials said.
Also on rt.com
This mosquito stings like hell: Watch Russian sailors hone SUPERSONIC missile-firing skills
Like this story? Share it with a friend!
You can share this story on social media: