Notre Dame towers 'saved' from the blaze, French firefighters hope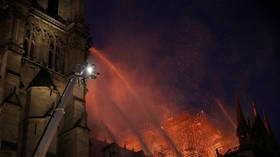 Fire has destroyed two thirds of the roof of the iconic Notre Dame Cathedral in Paris, yet the French firefighters remain cautiously optimistic that they may have managed to save its two towers from collapsing.
"We can consider that the two towers of Notre-Dame are saved," commander of the Brigade of firefighters in Paris, Jean-Claude Gallet, told reporters.
"We can think that the structure is saved," said Laurent Nuñez, Secretary of State to the Minister of the Interior. "We are much more optimistic than earlier, but we must remain cautious."
Earlier firefighters expressed doubts the devastating fire at the Notre Dame cathedral (Cathédrale Notre-Dame de Paris) can be stopped and have not ruled out further collapse of the iconic landmark.
"We're not sure we can stop the fire spreading into the northern bell tower – and you can imagine the damage if it collapses," said Jean-Claude Gallet, the commander of the Paris firefighters. Over 400 people are combating the blaze.
The next hour and a half will determine the fate of the 13th-century cathedral, French firefighters have said.
Earlier, the firefighters ruled out the possibility of using aerial support in fighting the devastating blaze.
"Helicopter or plane, the weight of the water and the intensity of dropping it at low altitude could weaken the structure of Notre-Dame and cause collateral damage to surrounding buildings," the French Civil Security tweeted.
A firefighter at the scene told Reuters that the main focus of the emergency workers is on saving work of arts from the back of the cathedral, as well as preventing the northern – left from the entrance – bell tower from collapsing.
Also on rt.com
'Everything is burning': Notre Dame cathedral in Paris on fire (PHOTO, VIDEO)
If you like this story, share it with a friend!
You can share this story on social media: