Tasmania makes declaring gender on birth certificates optional in divisive raft of reforms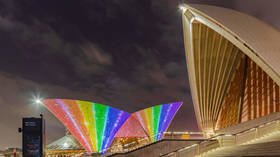 Australia's state of Tasmania has passed a measure giving parents the option of not listing gender on birth certificates, sparking backlash from the island's premier and those who believe such a move hurts women and free speech.
The new rule also permits trans people to change the gender on all identity documents without having sex reassignment surgery or counseling, and allows 16-year-olds to change their gender without parental approval. It also bans "hate speech and offensive language" against people on the basis of their gender identity.
These provisions were attached as amendments onto a bill that originally just ended the legal mandate forcing individuals undergoing gender transition to divorce their partners.
Also on rt.com
'Experiment on kids': Cross-sex hormone therapy age down to 8 in US govt-funded study, doctor finds
While trans activists celebrated the "historic" ruling, declaring Tasmania "world-leading" in the fight for transgender rights, others pointed to problems with the legislation, including a lack of accountability and possible incursions on the rights of others – particularly women.
"It is highly likely the parliament will need to fix up problems with the legislation," premier Will Hodgman said, claiming his opposition had "rushed" the measure through without properly considering the ramifications of all the amendments, and complaining there was no limit to the number of times a person could change their gender.
Health Minister Michael Ferguson was more blunt in his criticism, calling the law a "dog's breakfast" after the House "hastily ram[med] these amendments through." Similarly, Australian PM Scott Morrison denounced it as "ridiculous."
There are many troubling aspects to Tasmania's new gender law reforms, but most troubling is the component which forces citizens to use certain language. This is in total contradiction to our principle of freedom of speech. https://t.co/7yUEol8ZX9

— John Anderson AO (@JohnAndersonAO) April 8, 2019
Former deputy PM John Anderson worried that the new law would impinge on Aussies' freedom of speech, while the Australian Christian Lobby issued a statement accusing parliament of "capitulation to the trans lobby."
"This move could see people dragged before tribunals for causing unintentional offense to trans people, by misgendering them. That is a new threshold in compelled speech, never before seen on Australian shores," acting ACL state director Dan Flynn said. "No consideration has been given to the impact on women's refuges, schools, and clubs" or prisons, he added in a formal statement.
Transgender activist Martine Delaney celebrated the passage of measures that she had "tried to sell to successive governments for the past decade and a half."
"People from an incredibly marginalized and struggling community have done something which is world-leading," Delaney told the Mercury.
While Australia has allowed trans people to change the gender on their passports since 2013 – or use "x" if "male" and "female" seem too restrictive – regardless of surgical status, rules for other identity documents like drivers' licenses vary between the states. According to LGBT advocacy group ILGA, Tasmania is "probably one of the first places in the world" to discard gender from birth certificates altogether, though several countries including Germany, the Netherlands, Pakistan, and Nepal, as well as a number of US states and municipalities, permit individuals to select a third option on identity documents that is not male or female.
Like this story? Share it with a friend!
You can share this story on social media: