Space heroes deserve a shower! Russian hygiene system to make ISS stay more comfortable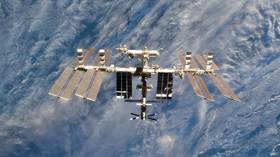 Russian scientists have started testing a new sanitary and hygiene system that would allow the ISS crew to have a proper shower and forget about washing with wet wipes. A proper washing machine is planned as well.
"The main goal of the system is to increase the comfort of the ISS crew," the developers from Russia's spacecraft maker, Energia, and the country's top designer of life support systems, NIIchimmash, said in a magazine article.
The full roster of the sanitary and hygienic equipment they propose includes a shower stall, a washstand, and a washing machine, which will be supplied with liquid by a state-of-the-art water-regeneration system.
The developers said that the system will be able to purify 760 to 1200 liters of water during a single cycle, passing it through a semipermeable membrane. It will require routine maintenance every two months and a filter change every three or four months.
Similar technology was in development for the Russian Mir space station when it orbited the Earth between 1986-2001. But it was never implemented because the water, which was purified via a solid sorbent, turned out to be irritating for the eyes and skin.
Also on rt.com
Rare moment ISS passes in front of moon captured in STUNNING PHOTO
The hygienic equipment will not only make life better on the ISS but would also decrease the amount of cargo delivered to the station by 100 to 200 kilograms, as the crew will be needing fewer towels and clothing.
The prototype of the system, which will be tested and perfected on Earth, has already been built, the scientist said.
If the equipment proves effective at the ISS it will then be used during extended space flights to Mars and other planets, they added.
Also on rt.com
Trip to ISS to be faster than flight from Moscow to Brussels, Russian space chief promises
Think your friends would be interested? Share this story!
You can share this story on social media: