'Everything is burning': Notre Dame cathedral in Paris on fire (PHOTO, VIDEO)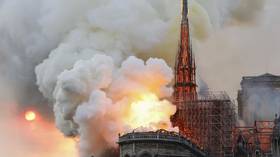 A fire at the iconic Notre Dame Cathedral in Paris, France has destroyed most of the roof and collapsed the church's central spire. Eyewitness videos show smoke and fire engulfing the jewel of Gothic architecture.
UPDATE: Notre Dame towers 'saved' from the blaze, French firefighters hope
The blaze broke out in the scaffolding around the spire on Monday afternoon, Paris firefighters confirmed, adding that a major operation to tackle the fire is underway.
"Everything is burning.There won't be anything left of the wood frame, which dates to the XIX century on one side and the XII century on the other," Notre Dame spokesman Andre Finot told French media. "We'll have to see if the [stone] vault, which protects the cathedral, will be touched or not."
The cathedral is home to incalculable works of art.
There have been no reports on casualties. It is unknown what might have caused the fire.
The medieval cathedral is one of the main attractions of the French capital, seeing 12 million tourists a year, more than the Louvre or the Eiffel Tower.
The incident took place as the jewel of the Gothic architecture was undergoing a major overhaul costing €11 million ($ 12.43 million), with the work scheduled to be finished around 2022.
Notre Dame's roof and the central spire have been destroyed by the flames. The fire has also damaged some of the famous stained glass windows, painstakingly re-created in the 1800s.
There are unconfirmed reports in local media that the priceless relics stored inside the cathedral, including the Crown of Thorns and a piece of the True Cross, have not been damaged. The cathedral's reliquary has not been evacuated, however.
Last week, 16 bronze statues representing 12 apostles and four evangelists from the New Testament were lifted off the spire of the cathedral by crane. Some scaffolding could be seen close to the flames leaping out near the cathedral's spire, before it toppled over.
The spire itself was made of wood and covered with lead. It has long been in a bad shape as elements of the construction dating back to the 12th century have been damaged by weather, pollution and time.
Construction of Notre Dame began in 1163. It was extensively restored in the mid-1800s, after Victor Hugo's novel about the hunchback bell-ringer Quasimodo revived the public interest in the cathedral.
Think your friends would be interested? Share this story!
You can share this story on social media: