'I'm totally unrepentant': Hunter who killed 1000s of elephants sparks social media stampede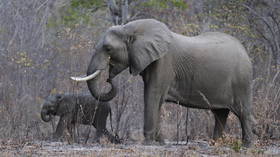 A man who has killed over 5,000 elephants and many other animals has faced a wave of online outcry after claiming he's "totally unrepentant" since he was only doing what was necessary for population control.
Zimbabwean Ron Thomson was named in a recent report by the Campaign To Ban Trophy Hunting (CBTH), whose investigation found that the populations of African savanna elephants in 18 countries have dipped by 30 percent over the last seven years.
It also found that in the 10 years between 2004 and 2014, as many as 1.7 million animal trophies had been traded, 200,000 of which were sourced from endangered species.
Speaking to the UK's Independent newspaper, 80-year-old Thomson denied the charge of being a trophy hunter, instead saying his job was "major population reduction." In addition to the thousands of elephants he's shot, Thomson's website credits him with killing over 800 buffalo, 60 lions, and as many as 40 leopards and 50 hippos.
"I didn't have any sentiment. I'm totally unrepentant, a hundred – ten thousand – times over for any of the hunting I've done," Thomson said of the killings. He went on to blast "so-called experts" in the West as the problem and insisted that the African elephant "is nowhere near extinct."
"When you have a healthy population you must ensure they don't increase beyond the capacity of their habitat," he argued.
However, Thomson's comments and attitude to his decades-long career sparked severe backlash online. Reaction ranged from shock and disgust at the killing of so many elephants, to those tackling his opinions on habitats and population control.
Possibly one of the most beautiful creatures created, with an intelligence we as human beings seem to lack. When we Humans destroy such majestic animals, we should ask ourselves who is the REAL ANIMAL. I suggest us.

— Martin the Cabbie (@YBcabbie) April 9, 2019
Increase habitats for elephants, dont reduce their numbers in line with their reduced habitats The arrogance of man personified in some old dude

— Cham Payne 🧐 (@Calamity_Payne) April 9, 2019
How does this person sleep at night? 😡😡😡😡😡😡

— Sean Kearney (@seankearney14) April 9, 2019
Others, meanwhile, were more philosophical, speculating what Thomson may have been "compensating for."
That must be a really tiny penis he's compensating for.The only consolation is that he will die one day and his depravity will end.

— Alan Rodrigues (@RodriguesAlan67) April 9, 2019
A week before 'karmic justice' apparently found another big game hunter, as a poacher in South Africa was "devoured" by lions after he was trampled to death by an elephant.
Think your friends would be interested? Share this story!
You can share this story on social media: