Japanese F-35 fighter jet 'disappears from radar' over Pacific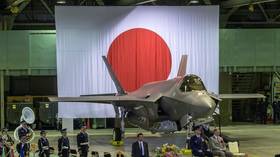 A Japanese F-35 stealth fighter jet has gone missing over the Pacific Ocean during a training mission, according to local reports. It is the second crash in the history of the F-35, and the first outside the US.
The F-35A disappeared from radars at approximately 7:30pm local time on Tuesday, according to Asahi Shimbun. All radio contact with the plane was lost as well, suggesting it had crashed into the sea.
The stealth jet took off with several other aircraft from the Misawa Air Base, roughly 135km northeast of Misawa City, for a regular night-time training exercise about half an hour before it went missing.
A search and rescue operation is already underway, and the Japanese Coast Guard has deployed two patrol ships to look for the aircraft and its pilot.
The jet has been deployed at Misawa since January 2018. Japan's Ministry of Defense originally signed a deal to buy 42 fighters, but said it wanted another 100 in November 2018.
The F-35A is a conventional takeoff and landing variant of the Lockheed Martin-built fighter. The series also includes the vertical takeoff F-35B and the F-35C version intended for carrier operations.
Japan is one of the world's biggest buyers for the fifth-generation stealth fighter, helping the US offset the trillion-dollar-plus cost of the F-35 program. Though the F-35 has been plagued by a litany of hardware and software problems, Tuesday's incident would be only its second crash so far.
Also on rt.com
WATCH Japanese fighter jets shadow Russian 'Bear' bombers over Sea of Japan
Last September, the US military grounded half of its entire fleet of F-35s following a crash in South Carolina. In 2017, a US F-35 deployed in Japan lost part of its fuselage mid-flight, during a routine training mission.
READ MORE: Japanese fighter jet crashes into Sea of Japan, crew found alive
In February, a Japanese air force F-2 fighter crashed into the Sea of Japan, about 130km from its air base in Fukuoka. The two crew members were recovered successfully by search and rescue teams.
Think your friends would be interested? Share this story!
You can share this story on social media: