Burned at the steak: Twitter roasts Aussie animal activists for mass protests (PHOTOS, VIDEOS)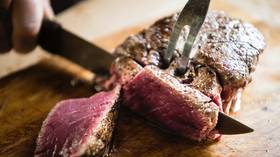 Animal rights protests brought traffic in major Australian cities to a halt Monday, inspiring a massive backlash online from frustrated meateaters who were forced to stew in their own juices in the rush hour backlog.
Organized by the creators of the 2018 documentary 'Dominion', which explores the "dark underbelly" of the animal agriculture industry, the huge protest swept across the country from the early hours of Monday.
Australian Prime Minister Scott Morrison lashed out at the "shameful," "un-Australian" protests, saying the "green-collared criminals" should face the "full force of the law," while pointing to the plight of beleaguered farmers "going through some of the hardest conditions we have seen in this country for more than a century."
Also on rt.com
PETA's take on the masculinity debate is a VIDEO of men with vegetables for private parts
Among the Dominion protesters' demands were the acknowledgment of the "inherent cruelty in the process of killing animals for food, clothing and entertainment," the banning of "intentionally deceptive marketing labels and imagery on animal products" and, rather questionably, a commitment "to screening Dominion in school curriculum for students aged 15 and over."
Carnivorous Aussies responded with torrents of pictures of steaks, burgers, and bacon on Twitter. Some reportedly went as far as threatening to eat a Big Mac for every minute the vegan protests delayed them. Others claimed such protests were counterproductive and would only harm the cause.
Others, however, voiced support for the protests and decried growing apathy among the citizenry about important issues.
Some also took the opportunity to lament the cost of the disruption and the apparent hypocrisy of the authorities for failing to adequately rein in the protests and prevent such widespread disruption.
"The industry is telling people these animals are being killed ethically, that they are being killed humanely — the reality is... it's the furthest thing from humane," the protest organizer and director of animal rights documentary Dominion, Chris Delforce, said as cited by News.com.au.
Also on rt.com
'Climate-smart eating'? Swedish professor calls for 'vegetarian pets,' gets blasted online
Melbourne's busiest intersection was closed off by vegan activists during rush hour, wreaking havoc on the city's transport infrastructure.
Meanwhile, police arrested nine people at an abattoir in New South Wales after the protesters chained themselves to a conveyor belt at the building and refused to leave. Police removed a further 20 protesters from an abattoir in Warwick.
Think your friends would be interested? Share this story!
You can share this story on social media: