'You don't get to authorize US military interventions' – US Rep. Khanna to Venezuela's Guaido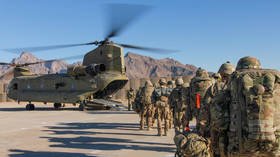 After self-proclaimed leader of Venezuela Juan Guaido said he might 'authorize' a US military intervention, he was rebuffed by Congressman Ro Khanna, who told him he doesn't get to make the call on "US military interventions."
"Mr. Guaido, you can proclaim yourself leader of Venezuela but you don't get to authorize US military interventions," Khanna tweeted on Saturday, adding that only the US Congress can greenlight sending troops overseas.
"We will not," the Democrat from California added.
Mr. Guaido, you can proclaim yourself leader of Venezuela but you don't get to authorize US military interventions. Only the US Congress can do that. We will not. https://t.co/rbPldFOnOZ

— Ro Khanna (@RoKhanna) 9 февраля 2019 г.
He further stressed that it is not up to "neoconservative Defense Department officials" or "defense contractor lobbyists" to authorize interventions abroad either.
Congressman Khanna was reacting to earlier remarks made by US-backed opposition leader Juan Guaido, who didn't rule out approving a US military intervention to oust President Nicolas Maduro from power in Venezuela. He told AFP that he would do "everything that is necessary" in order to "save human lives," while acknowledging that the deployment of American soldiers is "a very controversial subject."
The speaker of the nation's parliament, Juan Guaido, declared himself 'interim president' of Venezuela in January. His move was immediately supported by the White House. Most South American states and some EU nations, such as the UK, France, and Germany, followed suit.
Recognizing Guaido as the legitimate leader of the nation, US President Donald Trump confirmed that direct military involvement in Venezuela is "an option." His position was later echoed by Vice President Mike Pence, who reiterated that Washington will "keep all options on the table" until democracy is "restored" in Caracas.
The Trump administration's belligerent rhetoric was met with pushback from a number of politicians. Vermont Senator Bernie Sanders said the US must "not be in the business of regime change or supporting coups."
Representative Ilhan Omar noted that a US-backed coup is "not a solution" to Venezuela's problems and Washington "cannot hand pick leaders for other countries."
"Let the Venezuelan people determine their future," Congresswoman from Hawaii Tulsi Gabbard wrote, saying the US should "stay out."
The United States needs to stay out of Venezuela. Let the Venezuelan people determine their future. We don't want other countries to choose our leaders--so we have to stop trying to choose theirs.

— Tulsi Gabbard (@TulsiGabbard) 24 января 2019 г.
Nations such as Russia, China, and Iran continue to recognize Nicolas Maduro as the legitimate president of Venezuela. The US' open backing of the opposition is aimed at "exacerbating the division within the Venezuelan society," which can lead to "chaos" and the "destruction of Venezuelan statehood," the Russian Foreign Ministry has stated.
A spokesperson for the Chinese Foreign Ministry noted that "enduring peace" in Venezuela can only be achieved through dialogue and "political means."
President Maduro told RT Spanish that the US made a "mistake" by getting behind the opposition. He said that he doesn't believe a foreign intervention will actually take place, but the country has to be prepared, nonetheless. The government needs to ensure that military involvement would cost Washington "entirely too much."
Maduro earlier warned that a conflict would be a 'David v Goliath' situation, leaving Trump's presidency "stained with blood."
Like this story? Share it with a friend!
You can share this story on social media: