Turkey & Russia ministers talk Syria as Damascus claims its troops entered Kurdish-held Manbij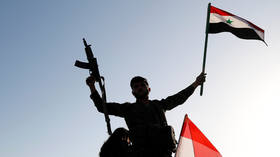 Top diplomatic and military officials from Russia and Turkey have met in Moscow on Saturday to discuss developments in Syria's northeast, where Kurdish militias have sought Damascus' protection from Ankara.
Russian Foreign Minister Sergey Lavrov and Defense Minister Sergey Shoigu have held a face-to-face meeting with their Turkish counterparts Mevlut Cavusoglu and Hulusi Akar, who arrived in Moscow on Saturday. The Turkish delegation also includes presidential aide Ibrahim Kalin, as well as intelligence chief Hakan Fidan.
Russia's Foreign Minister Sergey Lavrov said the high-profile talks were "very useful," adding that both sides had "paid special attention to the new circumstances" in Syria after the announcement of the US troop withdrawal.
Lavrov's Turkish counterpart, Mevlut Cavusoglu, also stressed the need for Ankara and Moscow to coordinate its activities in view of Trump's decision.
Both Tukey and Russia expressed their commitment to the "territorial integrity and unity of Syria and are ready to counter any actions aimed at disrupting those principles", Cavusoglu assured.
The Turkish FM said that the creation of a demilitarized zone in Syria's Idlib Province and humanitarian issues were also on the agenda.
The Russo-Turkish discussions were meant to "ensure absolute clarity and synchronize expectations" about how events should unfold in that part of Syria, Kremlin spokesman Dmitry Peskov told journalists earlier on Friday.
Also on rt.com
US helicopters spotted over Manbij as Turkish forces enter Syria (VIDEOS)
The talks have taken place on the heels of a Kurdish plea for help yesterday, as militias asked Damascus to take over the area around Manbij. The Kurds were effectively caught off-guard by the US withdrawal from Syria, leaving them vulnerable to a potential Turkish offensive.
The Syrian military later said its forces have "raised the flag" in the Kurdish-populated region, but Turkish President Recep Tayyip Erdogan was skeptical about the statement, saying it was a "psychological action."
The Kurds sought assistance from Damascus after the US – which stocked and supported their armed wing, the YPG, for several years – announced it will pull out troops from Syria. Relations between Kurds and the Syrian government have been tense at times, but they have kept neutral since the start of the 2011 civil war and occasionally teamed up against Islamic State (IS, formerly ISIS/ISIL).
Experts say Syria's troops entering Manbij would spell restoration of the government control over the Kurdish-populated province. Syrian government "is once to reassert sovereignty over its full territory and this is what it's doing right now entering Manbij whether by call from civilians or from the Kurds," Omar Nashabe, political analyst and editor of Beirut-based al-Akhbar weekly told RT.
"[The US] has abandoned the Kurds, and now what's going to happen with the Kurds? Somebody has to take over and control the situation," he stated.
Also on rt.com
Bahrain the latest Arab nation to re-engage with Syria as it reopens embassy in Damascus
The Syrian announcement came after Turkey, America's NATO ally, vowed an "anti-terrorist" operation in northeastern Syria. Turkey has amassed a large fighting force near its southern border, but stopped short of launching the promised offensive.
"If the Syrians' move to Manbij means the departure of elimination of YPG influence in Manbij, then there should be no problem for Turkey," Osman Faruk Logoglu, former Turkish ambassador to the US, commented on RT, adding this is in fact how President Erdogan himself perceives the situation.
Subscribe to RT newsletter to get stories the mainstream media won't tell you.
You can share this story on social media: