China summons US envoy to lodge 'strong protest' over Huawei executive's arrest – FM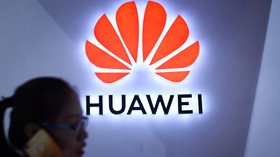 Beijing has summoned the US ambassador and lodged a "strong protest" over the detainment of Huawei CFO Meng Wanzhou, China's foreign ministry announced, according to Reuters. Washington should also "withdraw" its arrest warrant.
Any further measures will depend on the next steps taken by the US, Vice Foreign Minister Le Yucheng told the ambassador, the news agency says.
Meng was arrested while changing planes in Vancouver on December 1. She now faces possible extradition to the United States over allegedly lying about her company's ties to SkyCom, a company that tried to sell US-manufactured technologies to Iran despite sanctions.
Also on rt.com
China warns of 'serious consequences' if Canada doesn't release detained Huawei executive
The ministry's announcement comes just one day after it warned Canada of "serious consequences" if it fails to release Wanzhou.
If extradited to the US, Meng would face charges of conspiracy to defraud numerous financial institutions, a Canadian court heard on Friday. Each charge carries a maximum sentence of 30 years.
Although her arrest has only just taken place, it has emerged that Meng's alleged wrongdoings date all the way back to 2013, leading many to speculate whether her detainment may be a sneak attack by the US amid a growing trade war between Washington and Beijing.
Like this story? Share it with a friend!
You can share this story on social media: