China warns of 'serious consequences' if Canada doesn't release detained Huawei executive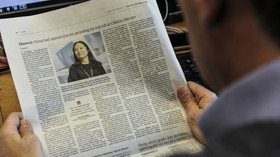 Beijing has threatened Ottawa with consequences if it doesn't release Huawei's chief financial officer. The executive was detained over her alleged connection with a company that tried to smuggle embargoed phones into Iran.
"China strongly urges the Canadian side to immediately release the detained person, and earnestly protect their lawful, legitimate rights, otherwise Canada must accept full responsibility for the serious consequences caused," Vice Foreign Minister Le Yucheng said on Saturday.
Canada's ambassador to Beijing was also summoned, as part of a "strong protest" over the detainment of Meng Wanzhou on December 1. She was arrested while changing planes in Vancouver and is facing extradition to the United States. Washington alleges that she covered up Huawei's links to a firm that tried to sell equipment to Iran despite sanctions.
Le said Meng's detainment was a serious breach of her rights, as it "ignored the law," was "unreasonable," and "extremely nasty."
If extradited to the US, Meng would face charges of conspiracy to defraud numerous financial institutions, a Canadian court heard on Friday. She would face a maximum sentence of 30 years for each charge.
Meng's alleged wrongdoings date back to 2013, which raises the question why Washington waited for so long, with some speculating it maybe a sneak attack by the US amid an escalating trade war between Washington and Beijing. Her arrest took place on the same day that US President Donald Trump met with his Chinese counterpart Xi Jinping to look for ways to resolve that very trade war.
Huawei has denied any wrongdoing, insisting that it complies with all laws and regulations where it operates – including export controls and sanctions of the United Nations, US, and the European Union.
Like this story? Share it with a friend!
You can share this story on social media: