IDF compares Hezbollah to Elon Musk in bizarre signal boost attempt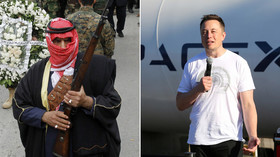 In a strange PR ploy, the Israeli military has enlisted the help of tech visionary Elon Musk to blast Hezbollah's tunnel-digging and rocket-building, tweeting that the SpaceX CEO does the same things, only for the greater good.
The Israel Defense Forces, who this week launched an open-ended operation to destroy a web of tunnels stretching from southern Lebanon to northern Israel, revealed their unexpected appreciation for Musk's tech-savvy genius on Saturday.
On its official Twitter account, the IDF wrote that while Musk "builds rockets at @SpaceX and digs tunnels at @boringcompany to help mankind," the Shia militant group "does the same" in Lebanon "to kill Israeli civilians."
The IDF's praise comes in light of the much-anticipated opening of an underground tunnel in Los Angeles built by Musk's The Boring Company. The inauguration of the high-speed loop system that will transport passengers at speeds up to 150mph has been delayed several times, with the opening initially planned for December 10. On Thursday, Musk tweeted that the tunnel would be unveiled on December 18, and include "modded but fully road legal autonomous transport cars & ground to tunnel car elevators."
In Israel, meanwhile, the IDF is trying to blow tunnels up: it recently started a large-scale operation to expose and destroy tunnels it claims can be used by Hezbollah for "infiltrations". So far, the IDF has discovered two "cross-border attack tunnels," both non-operational and posing no "imminent threat" to Israel.
While the Israeli military estimated that the so-called Operation Northern Shield likely to last for two weeks, no end date has yet been set, with Israeli officials saying that the operation can be extended into Lebanon if doing so is needed to dismantle the network. In response, Lebanon has filed a complaint with the UN. The letter to the UN Security Council penned by Lebanese Ambassador to the UN Amal Mudallali urges the Security Council to "take all measures necessary…to confront Israel's ongoing violations of Lebanese sovereignty, which are a threat to the security and stability of the entire region."
Lebanon also claims that Israeli intelligence hacked its communications grid to warn the residents of a village near the tunnels of imminent explosions.
Since the end of the 34-day Lebanon War in 2006, Israel has largely maintained a state of UN-brokered ceasefire with the Iran-backed group. However, tensions flared up again when Israel fired a barrage of rockets into Syria targeting what it claimed to be Iranian-backed forces. Syria has condemned the strikes as violations of international law. In September, the IDF stated that it had carried out airstrikes against some 200 "Iranian" targets since 2017.
Think your friends would be interested? Share this story!
You can share this story on social media: