'Fighting poverty is boring, if Mexico's new president wants to be on CNN he should say racist s***'
Published time: 8 Dec, 2018 14:50
Edited time: 9 Dec, 2018 08:32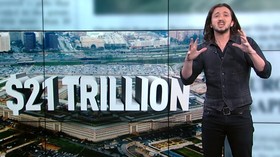 In the latest Redacted Tonight, Lee Camp satirizes US news networks' endless interest in Donald Trump over politicians who are trying to make a difference, a $21 trillion Pentagon scandal, and the potential Oreo extinction.
Andres Manuel Lopez Obrador was inaugurated this month, officially becoming the first leftist president to lead Mexico since the 1940s, following his election win in July.
"He wants to make many changes to benefit the people instead of the oligarchs and the drug cartels...which to be honest sounds like a pretty boring news cycle," joked Camp.
READ MORE: Can President-elect Lopez Obrador pull Mexico out of slumber?
"If CNN has taught us anything is that when a megalomaniacal, corrupt manchild with a memory of a goldfish wanders around yelling unhinged things, it is super entertaining. And that's why it is currently working to get Donald Trump re-elected."
Offering advice, the show host suggested that "if Obrador wants his presidency to have good ratings he should learn to say at least a little bit of racist s***."
Camp celebrated that the effort to highlight the $21 trillion of accounting irregularities uncovered by the Pentagon's own internal audit is attracting mainstream media attention. Albeit with even liberal outlets like Vox dismissing it as "just accounting errors — they don't represent actual money that can be spent on something else."
$21 TRILLION of Pentagon financial transactions "could not be traced, documented, or explained."

$21T in Pentagon accounting errors. Medicare for All costs ~$32T.

That means 66% of Medicare for All could have been funded already by the Pentagon.

And that's before our premiums. https://t.co/soT6GSmDSG

— Alexandria Ocasio-Cortez (@Ocasio2018) December 2, 2018
But the Redacted Tonight host isn't quite so easily fobbed off.
"It's as impossible to have trillions of dollars of accounting errors as it is to accidentally bump into the asses of 20,000 people in an hour," he said.
"To sum up Vox is actually a group of corporate shills, the Defense Department is an organized human murder company, and the $21 trillion is actually massive fraud."
Camp also lifts the lid on what makes environmental movement Extinction Rebellion a "new terrorist group" to the politicians in Washington (and not just the Republicans) and why the world has to choose between preserving orangutans, or destroying their habitat for palm oil to produce Oreos.
Subscribe to RT newsletter to get stories the mainstream media won't tell you.