Blinging Boeing: Emirates image of diamond-decked aircraft takes off on social media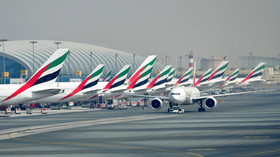 A viral image appearing to show an Emirates plane completely decked out in sparkling diamonds has set social media alight after the airline shared the striking picture on Twitter.
The blinging Boeing 777 appeared to be coated in glistening gemstones, dazzling social media users who couldn't believe their eyes. Many expressed their desire to travel on such a glamorous aircraft, while some questioned how such a diamond-encrusted plane could actually take off and fly safely with the additional load.
It turns out they needn't have worried, as the sparkling plane was just a clever use of photo-editing.
The image was created by Sara Shakeel, a dentist turned 'crystal artist' from Pakistan, who shares bedazzled photos on Instagram.
Emirates was so impressed by her jazzed-up jet, it gave Shakeel a free upgrade on her flight to Milan.
Also on rt.com
Railway under Arabian Sea could one day connect India to United Arab Emirates
Like this story? Share it with a friend!
You can share this story on social media: