High school, high tensions: French students protest education reform with Molotov cocktails (VIDEOS)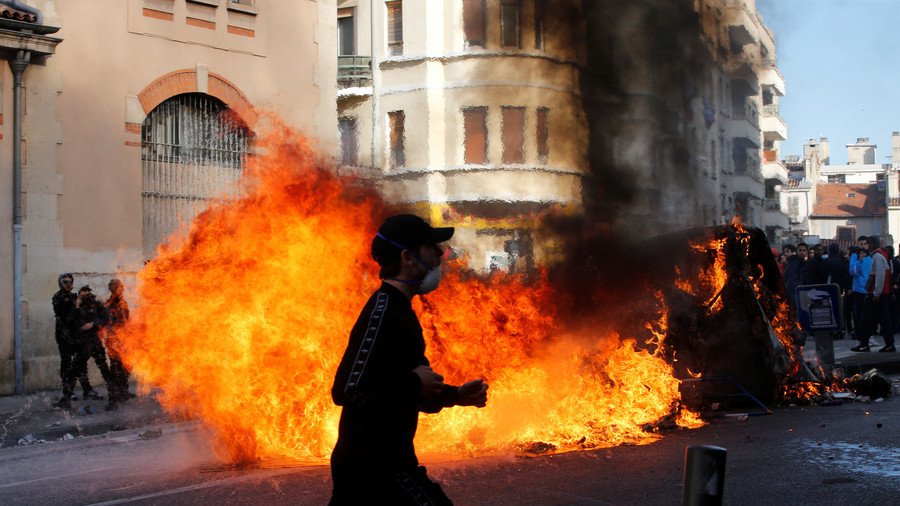 More than a hundred have been arrested as students employ Molotov cocktails in fierce clashes with police near high schools across France, following Yellow Vest mayhem in Paris. The police used tear gas to disperse the crowds.
Intense standoffs between students, protesting education reform, and law enforcement were reported in front of high schools in different French cities. Videos from the scenes show the police, armed with batons, riot shields and tear gas grenades trying to disperse the unruly crowds.
The protesters have been throwing Molotov cocktails and glass bottles at police officers. They also set numerous fires and burnt down several vehicles, parked nearby.
According to AFP, 146 people were arrested during the clashes near two high schools in Mantes-la-Jolie in northern Yvelines department. Two cars were burned following the standoffs.
Similar incidents occurred in schools in other places. In Seine-Saint-Denis, located in northern Ile-de-France region, the protesters blocked the entrance to 37 high schools and two colleges. The ensuing clashes with the police led to nine young people being arrested.
The skirmishes were also reported in the cities of Lyons, Marseille, Toulouse, and the Parisian suburbs. In some cases, the students were armed with sticks, and knives were retrieved after the standoffs, police said.
The renewed protests come after massive anti-government Yellow Vest rallies on Sunday. The protesters, supported by the nation's leading trade unions, came out to denounce the controversial fuel tax hike. Their demands quickly grew to include the resignation of President Emmanuel Macron.
READ MORE: 260+ arrested, nearly 100 injured as Paris descends into chaos amid Yellow Vest rallies (VIDEOS)

As more than 200 people were arrested after the rallies descended into street battles in downtown Paris, the government agreed to drop the tax hike plan and said it is ready for "dialogue" with the protesters.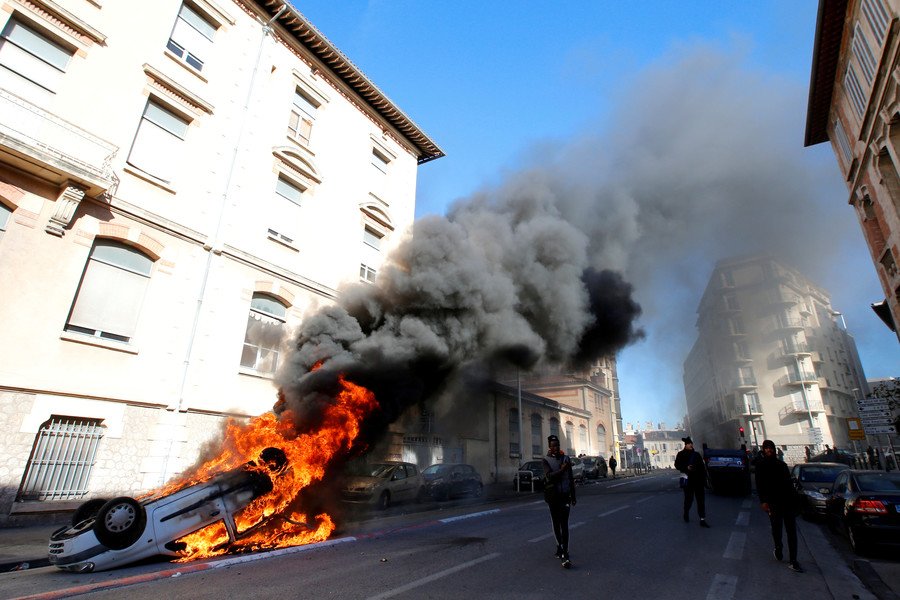 Think your friends would be interested? Share this story!
You can share this story on social media: