Political censorship? Lecturer suspended for placing swastika over Israeli flag on Palestine slide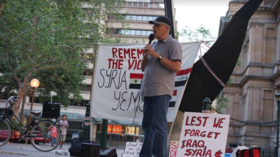 An Australian professor was suspended after showing his students a picture of an Israeli flag partially covered by a swastika during a lecture. The academic says the university has violated his right to "intellectual freedom."
The University of Sydney suspended Tim Anderson, a senior lecturer in the department of political economy, after he showed the students the graphic of the Nazi symbol being placed over the Israeli flag. The picture accompanied text which compared Israeli and Palestinian attacks and deaths.
Also on rt.com
Swastikas and anti-Semitic slur painted on Jewish professor's office walls
"In my view an image of a Swastika superimposed over the Israeli flag references Nazi symbolism," University of Sydney Provost Stephen Garton wrote in the suspension letter to Anderson. "It is of significant concern that the altered image was created by you and presented to students in the course of your employment."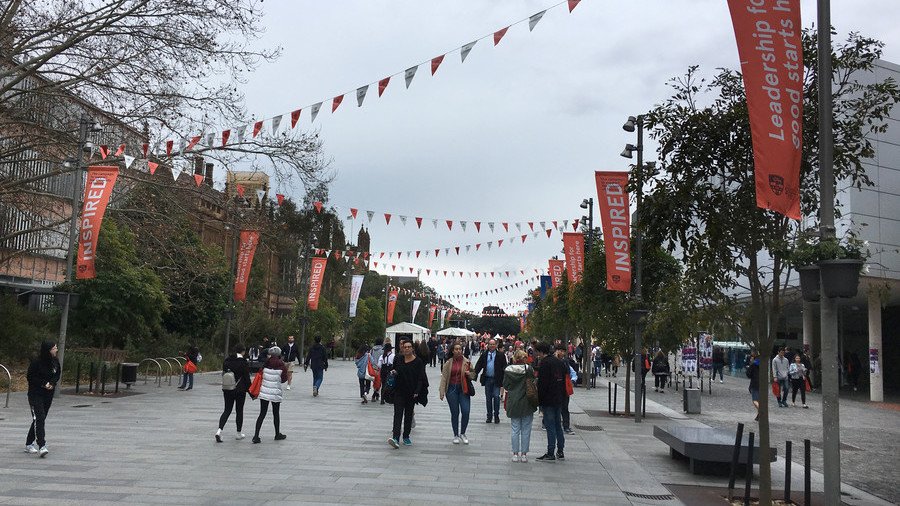 The provost also reprimanded Anderson for sharing the same image online from his personal Twitter and Facebook accounts, and for making it available for download on the online learning platform Canvas. He proposed that the professor's employment be terminated.
Anderson, who has also been banned from entering the university premises and contacting students, took to Facebook to express his anger on Tuesday.
"I have worked as an academic at this University for more than 20 years and am appealing the decision to a Review Committee," he wrote, describing the controversial image as being part of an "advisory analysis of the Israeli attacks on Gaza."
Anderson said that in making the decision, University of Sydney Provost Stephen Garton ignored the university's "intellectual freedom" rule, which he says entitles staff to "express unpopular or controversial views."
The lecturer said the suspension is the latest in a string of "petty and absurd" complaints by the university over the last 18 months, while accusing the academic institution of "political censorship."
Also on rt.com
Hitler pilgrimage: German right-wing politician quits over scandalous tour of Nazi sites
Anderson has long had a tense relationship with the university. In August, he was part of an internal investigation after he supported a former colleague who wore a Houthi resistance badge which said: "God is the greatest, death to America, death to Israel, curse on the Jews, victory to Islam," the Honi Soit, the University of Sydney's newspaper, reported.
The professor has also been criticized for his support of Syrian President Bashar Assad. He met with Assad in 2013, and publicly stated that he did not believe the Syrian government was responsible for a chemical attack on Khan Sheikhoun in April 2017 – an allegation shared by Western media and governments, despite there being no evidence that Damascus orchestrated the attack. The Syrian government has blamed the rebels for staging the massacre.
In 2014, Anderson published an opinion piece in the Australian, in which he wrote that the university should accommodate fringe academic perspectives, including support for the Syrian government.
Like this story? Share it with a friend!
You can share this story on social media: