Catholic priests must resist 'fashionable' homosexuality or leave clergy – Pope Francis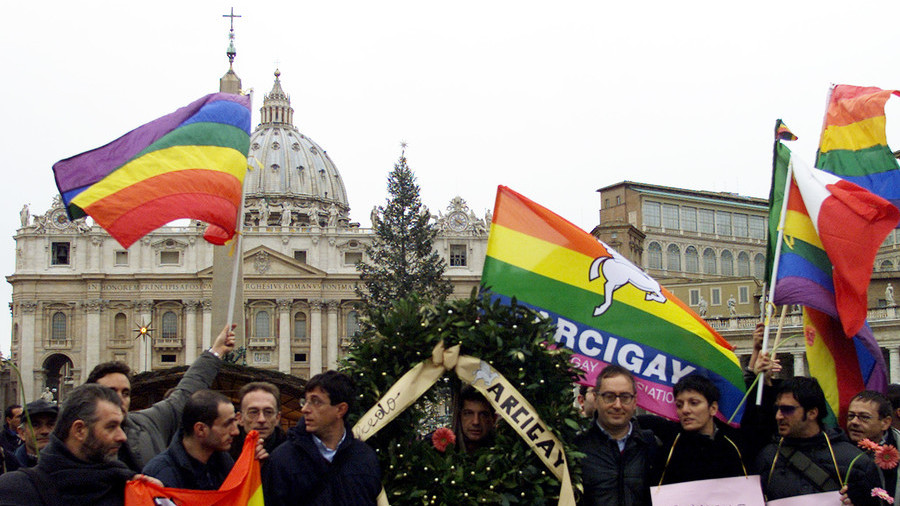 Pope Francis has bemoaned the allure of "fashionable" homosexuality, stressing that gay priests must forever remain in the closet – or leave the Catholic Church.
The pontiff likens homosexuality to a modern – and apparently dangerous – trend in his new book, 'The Strength of a Vocation', which is set to be released Monday in 10 languages.
"In our societies it even seems that homosexuality is fashionable and that mentality, in some way, also influences the life of the church," Francis wrote. "Therefore, the Church recommends that people with that kind of ingrained tendency should not be accepted into the ministry or consecrated life."
The Pope advised that the Church, which has been tainted by numerous sexual scandals, must urge homosexual priests to be "impeccably responsible" and avoid "scandalizing either their communities or the faithful holy people of God."
"It's better for them to leave the ministry or the consecrated life rather than to live a double life," he stressed.
While the Vatican prohibits sexual activity between members of the same sex, it has also called for tolerance towards members of the LGBT community. In 2005, the Vatican banned gays and all those with "homosexual tendencies or support the so-called 'gay culture'" from entering the seminaries and holy orders.
Also on rt.com
Twitter on fire after Pope Francis reportedly tells a gay man that 'God made him like this'
In late August this year, Pope Francis got into hot water over his comments regarding gay issues. Speaking to a reporter, he said that parents whose children have homosexual tendencies should seek out the help of psychiatrists. The Vatican later did some damage control, claiming the pontiff did not mean it and removed those words from the official transcript.
Like this story? Share it with a friend!
You can share this story on social media: