Horrifying VIDEO: Man hangs on to glider at over 1,000 meters after pilot fails to attach harness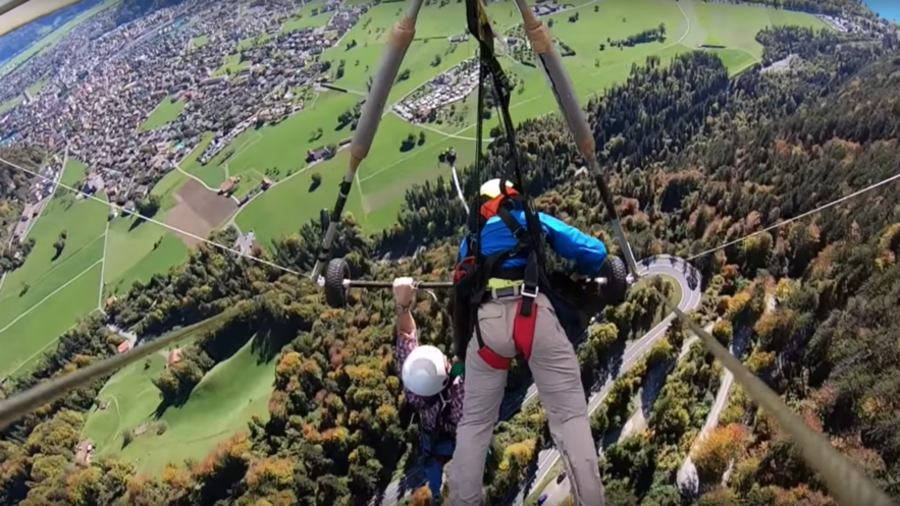 A jaw-dropping video of a Florida tourist hanging on for dear life over Swiss mountains during his maiden hang-gliding flight has gone viral on YouTube.
Chris Gursky decided to try something new while vacationing with his wife in Interlaken, Switzerland in October. Eager to experience the adrenaline rush and breathtaking views of the Swiss countryside, the man from Florida decided try hang gliding. His experience turned into a complete nightmare but made him a YouTube sensation overnight.
The tandem flight went wrong from the start when the instructor failed to strap Gursky in and then set off from the side of a 1,200-meter-tall mountain. Grabbing the instructor by the shoulder, the tourist spends the next two and a half minutes clinging on desperately as the pilot tries to land the gear at 72kph.
"My body weight shifted straight down and I found myself hanging on for my life. I remember looking down and thinking, this is it," the Canadian explained in an earlier Facebook post.
Less than 30 seconds into the flight, the pilot fails to reach the ground as Gursky tries to hang on to the bar and the instructor at the same time. Unable to touchdown, the glider spurs into the air over a tree-covered slope overlooking the serene vista of the Swiss mountainous countryside.
"I was slowly losing my grip with my right hand as I was swinging in the wind with the glider," Gursky recalled. The pair desperately tried to make it to the open fields below. "The pilot grabbed my hand but, like in the movies, it was a slow-motion slipping of the grip until my right hand slipped off."
Gursky then changed his grip, grabbing the instructor by the leg, while clinging to the bar with the other. That allowed to pilot to somehow gain better control of the aircraft and make a smoother second emergency landing approach. Just over two minutes into the flight, Gursky ejects himself over a grass field just before the pilot makes a hard landing.
Miraculously Gursky made it out alive, but suffered a fractured wrist that required surgery. Terrifying footage of Gursky's near-death experience titled 'Swiss Mishap' became an instant sensation online, gaining close to 3.5 million views in just two days after being posted on YouTube.
Despite the terrifying ordeal, the tourist said he will try hang gliding again, as his first experience didn't prove up to par.
Think your friends would be interested? Share this story!