Twitter on fire after Pope Francis reportedly tells a gay man that 'God made him like this'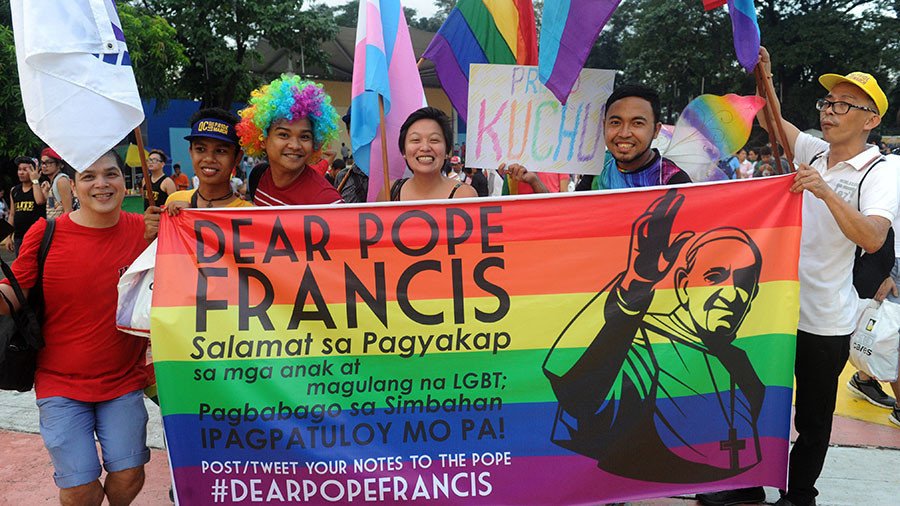 Social media was set ablaze as some praised and others questioned the integrity of Pope Francis after a gay man claimed the head of the Roman Catholic Church told him: "God made you this way."
Juan Carlos Cruz, a survivor of clerical sexual abuse, told Spanish El Pais that Pope Francis assured him of God's love regardless of his homosexuality.
"He told me, 'Juan Carlos, that you are gay does not matter. God made you like this and loves you like this and I don't care. The pope loves you like this. You have to be happy with who you are,'" Cruz told El Pais.
The comments were welcomed by some people, who praised the Pope's open-mindedness.
His supporters called him "the new age true Catholic," who, instead of condemning homosexuality, embraced it by "telling Catholics that being gay isn't a choice."
However, the Pope's remarks did not sit well with more conservative audience. Some even expressed doubt that His Holiness has actually read the Bible, suggesting it might be a good time for him to start reading it.
"God didn't create Tom and John. He created Adam and Eve. This is wrong and not biblical," said one man, who added that there is nothing in the traditional church teachings that could back the Pope's words.
"Followers of Jesus Christ need to be reminded that Jesus NEVER SAID A WORD about homosexuality," author Tess Gerritsen tweeted. "But if you insist on obeying Old Testament laws, better start collecting stones. You'll need them to execute your disobedient teenagers."
Some people accused the pope of distorting the truth, and cited passages from the Bible. "Pope Francis changed the truth of God into a lie. So sad," one man said.
Others said Pope Francis "is being politically correct." Again.
If true, Cruz's claim that the Pope told him it is okay to be gay wouldn't the first time Pope Francis has gone against the core principles of the church. In July 2013, he expressed his openness to gay clergy when he said, "Who am I to judge?"
The Argentinian-born pope has repeatedly challenged the public with his statements, many of which have raised some eyebrows. In one such statement, he reportedly denied the existence of hell, when one of the co-founders of Italian La Repubblica, and Eugenio Scalfari, an atheist, confronted him about the immortality of the soul.
On another occasion, the pontiff condemned the phenomenon of 'fake news' as the work of the devil, which he said could be compared to the tale of original sin in which Adam and Eve were deceived into eating the forbidden fruit.
Not so long ago, Pope Francis also made a remark comparing a group of giggling Peruvian nuns to "terrorists."
The Pope also recently shook public opinion after a report revealed a letter written by the same victim of clerical sexual abuse who claimed the pope told him God made him "this way." In the letter, Juan Carlos accused Bishop Juan Barros, who was appointed by Pope Francis, of sexual abuse. Francis refused to admit any "wrongdoing" by Barros as long as there was no proof to back the claim.
Think your friends would be interested? Share this story!
You can share this story on social media: