'Well made & comfy!' Putin's 'bunker on wheels' grabs attention at G20 (PHOTOS, VIDEO)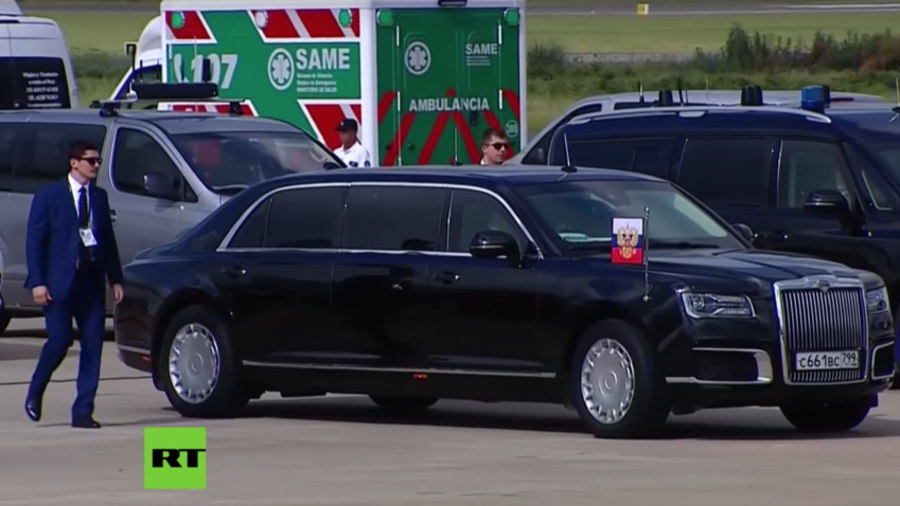 Putin's presidential motorcade has made an impressive appearance on its maiden voyage to South America and has attracted interest from international buyers eager to ride in the comfort of an Aurus limousine.
After making their international debut in Finland this summer, two Aurus armored limos were sent to Buenos Aires to accompany the Russian President at the G20 summit. Vladimir Putin's ride caused quite a stir in the local media, which dubbed the limo a "real bunker on wheels."
Para no ser menos que Trump, Vladimir Putin trajo su propia "Bestia" a Bs. As.Es una limusina blindada de fabricación rusa, un auténtico búnker sobre ruedas. Es una mole que costó unos 165 millones de euros y sus detalles de fabricación son TOP SECRET https://t.co/UuTHfPj0FOpic.twitter.com/x66DQcmEsB

— TN - Todo Noticias (@todonoticias) November 30, 2018
Developed by Russia's NAMI institute as part of the 'Kortezh' project, the ballistic- and explosive-protected vehicle also provides the very comfort level an executive car deserves.
"It is well made and it is very comfortable," Putin said at the end of the G20 summit. "It is a really good car. I like it. And it's not just me. Some of our Arab friends like it too and they've said they want to buy this car for themselves."
Putin ditched the Mercedes-Benz S 600 Guard Pullman for the Aurus Senat limo in May at his inauguration ceremony. Since then, the car has been attracting international attention. In June, Putin showed his new Cortege limo to Crown Prince of Abu Dhabi Mohammed Al Nahyan during his working visit to Moscow. In October the car was showcased to Egyptian President Abdel Fatah el-Sisi on the Formula 1 circuit in Sochi.
Also on rt.com
Putin brings his wheels: Aurus motorcade meets top man in Buenos Aires (PHOTOS, VIDEO)
Russia plans to present the executive sedan and limousine versions at the International Motor Show in Geneva in March 2019. Prior to that, Aurus executive class cars were seen at the Moscow International Auto Salon in August.
Also on rt.com
US nuclear subs in Russia's Arctic? 'Highly unlikely', Putin says, about surreal Hollywood flick
Like this story? Share it with a friend!
You can share this story on social media: