'Hypocrite': Macron takes heat over Twitter post on 'pollution deaths' in France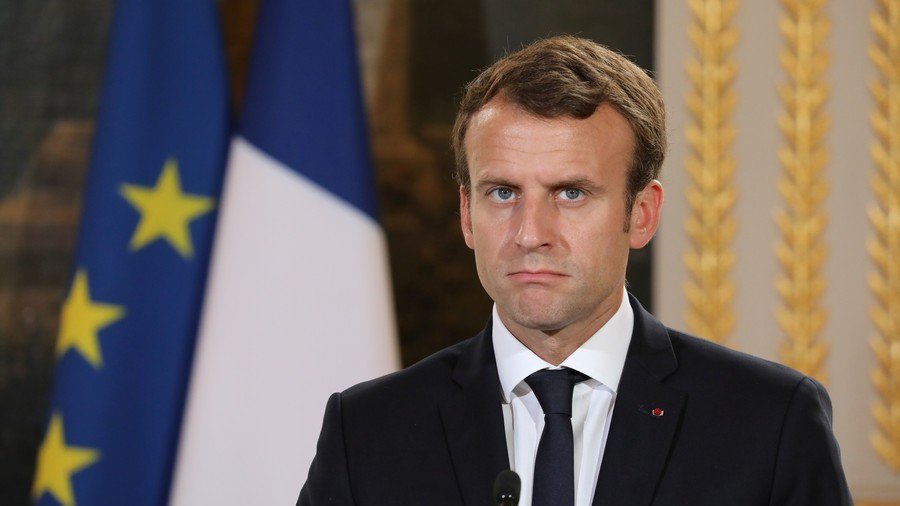 Already battered by dwindling support, President Emmanuel Macron gained no friends with his latest tweet on 'pollution deaths' in France. The leader was labelled a hypocrite, trying to promote his unpopular reforms.
Macron took to Twitter in an apparent attempt to justify highly-controversial fuel tax reforms, which are part of government campaign for more environmental protections.
"...This is 48 000 [premature] deaths a year [due to pollution], more than all road accidents, all suicides, all murders, all drownings, all domestic accidents combined," he recently tweeted, referring to a 2017 Health Ministry report.
However, instead of praise, the president earned more than a slap on the wrist for his post, with people accusing him of turning a blind eye to the country's other problems, including poverty.
ou sont les études et les zones ?voici une étude de la pauvreté en France en 2018 8,8 millions de pauvres 67 millions d'habitants en France ile de la réunion 865 826 habitants 45% de pauvreté pauvreté = malnutrition = décès pic.twitter.com/2AusP8AeGY

— fab . f (@jaguar34592543) November 27, 2018
"There are 8,8 million of poor people in France," one woman wrote.
Another person hit out at Macron, asking why French banks continue to finance fossil fuels at the expense of renewable energy, referring to a Le Monde report. Others simply branded Macron a hypocrite.
"Don't justify the reforms with a hypocritical stance. Too easy! …Be honest, that's all we expect from a chef!" The planned reforms include a higher fuel taxes on diesel and petrol and are due to come into force in January 2019.
Monsieur @EmmanuelMacron ,ne justifiez pas les réformes à coup de position hypocrite. Trop facile!ça décrédibilise complètement et votre rôle et la manoeuvre!! Les français sont moins dupes que ce que pense le sommet.Soyez honnête, cest tout ce qu' on attend d' un chef! Assumez

— Javier Banana (@erwinovich) November 28, 2018
Public unease over the issue has already peaked in the form of numerous violent Yellow Vests protests across France. Some people suggested that, according to Macrons logic, one should "ban everything. Planes, ships, truck cars."
READ MORE: Battlefield Paris: Police hit protesters with tear gas as massive fuel rallies grip France (VIDEO)
Calls to deliver 'proof' have been also made.
"I have never seen a death certificate of person who was [directly] killed by pollution. Prove it to me then," one man wrote to the head of state.
And what about pesticides or cigarettes, questioned other users.
Macron, who faces plummeting approval ratings, is trying to calm down "gilets jaunes" ("Yellow Vests") protests which have rocked France for over two weeks now.
Also on rt.com
Going nationwide: 2/3 of French back anti-govt Yellow Vests protests, poll shows
Paris has so far seen the worst of the unrest, with demonstrators setting barricades ablaze and police unleashing tear gas and water cannon at demonstrators. At a certain point, the French capital resembled a 'warzone,' with debris laying in the heart of city.
On Tuesday, Macron offered demonstrators minor concessions, including a three-month consultation with unions leading the rallies and a proposal of a mechanism to adjust tax hikes.
At least 76 percent of the French called Macon's reforms "wholly" or "mostly insufficient," a recent survey showed. Nearly 80 percent still oppose the planned fuel tax hike.
Think your friends would be interested? Share this story!
You can share this story on social media: