Battlefield Paris: Police hit protesters with tear gas as massive fuel rallies grip France (VIDEO)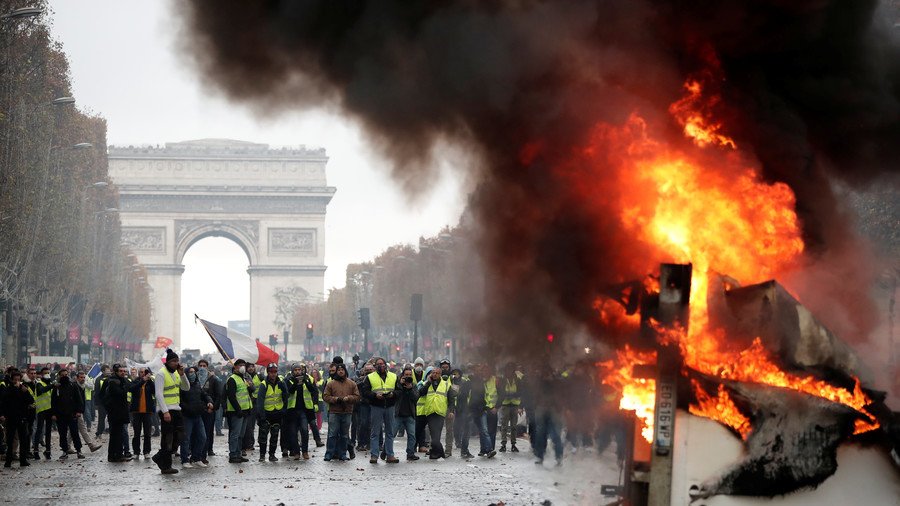 Police unleash tear gas and water cannons on projectile throwing protesters in Paris, as the 'Yellow Vest' upheaval against fuel prices turns areas of the French capital into the war zones.
The iconic Champs Elysee filled with smoke as crowds of protesters attempted to move closer to the presidential palace, throwing bottles and stones at police. Officers responded with tear gas and water cannons.
Several vehicles and outdoor structures have been set on fire adding to the smoke... even the Arc de Triomphe was barely visible through the thick fumes. Demonstrators maneuvered past smoking projectiles as clashes continued. Police have already arrested at least 42 people in Paris.
RT correspondent Charlotte Dubenskij was caught in the midst of the rally and pushed into the gas-filled area.
"It makes your eyes red and it is really hard to open them. At this moment, they are just burning uncontrollably," she shared in her live report.
In addition to putting the city center almost on lockdown, the chaos spilled into the subway and disrupted traffic, several stations were closed entirely as a result of "malicious acts."
Barricades were erected along major roads, some being smashed by thick spray from water cannons that sent demonstrators fleeing.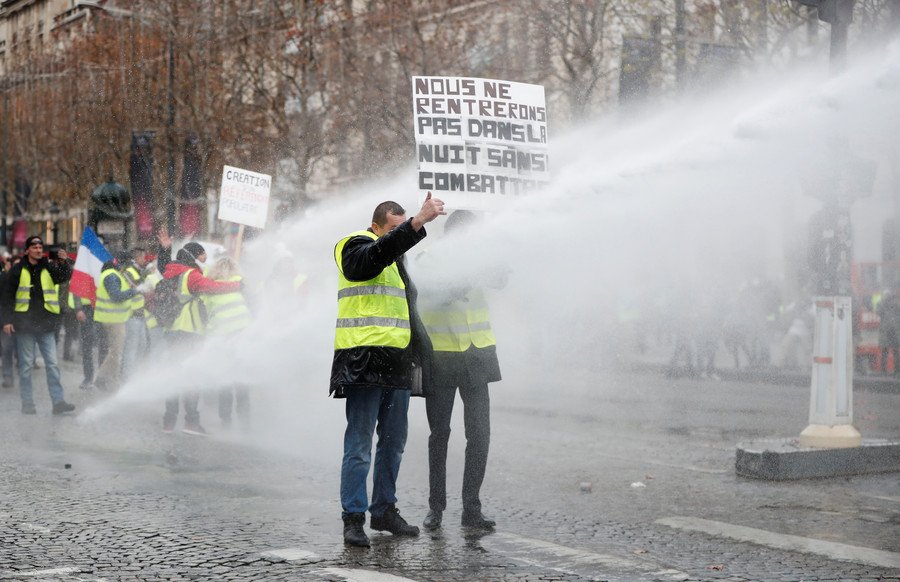 Some 8,000 protesters went out into the Paris streets, while over 100,000 people rallied throughout the country with nearly 130 being arrested, according to the French Interior Minister Christophe Castaner.
"I have come to express my discontent," an elderly protester told RT France, adding that, as a pensioner, he does not have enough money to buy Christmas presents for his grandchildren because taxes are already too high. He also complained that the authorities responded to protests with "violence" and "gas", provoking "hatred" that people had not felt before the intense response.
Another protester said that people are angry and added that "the easiest way to resolve this conflict" is through a confidence vote in the form of a referendum. "Do the people want them [the government of President Emmanuel Macron] to stay or go?" the man asked rhetorically.
Chants against Macron have been heard throughout the protests, just as they had been during demonstrations last week where around 200 people were injured and over 100 were arrested. One woman died after being run over by a panicked driver who was surrounded by demonstrators.
The unease has been spurred by rising fuel prices and a planned fuel tax. The 'Yellow Vest' movement, as it's called, is protesting a measure which is due to be put in place January 1, 2019. The government claims the move is aimed at promoting environmentally friendly practices, but the proposal has been met with fierce response from the public.
French President Emmanuel Macron's policies, particularly his handling of the economic situation, have already triggered multiple protests throughout France. The French leader faces plummeting approval ratings amid social discontent with his reforms, such as tax relief for businesses coupled with cuts to pensioners benefits.
Think your friends would be interested? Share this story!
You can share this story on social media: