RT crew caught up in tear gas as Paris rally over fuel prices descends into chaos (VIDEO)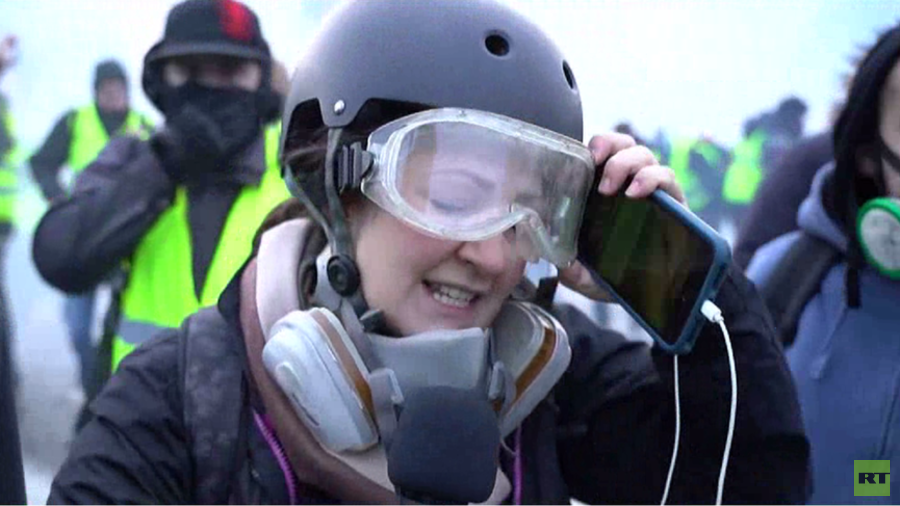 RT's Charlotte Dubenskij and her crew were caught in the midst of tear gas salvos on protesters in Paris. Law enforcement and demonstrators once again engaged in 'street battles' during rallies against fuel price hikes.
The chaotic scene unfolded as a large group of protesters attempted to get near Elysee Palace by entering a street leading directly to the French president's residence. Police pushed back by using tear gas.
Thick clouds of white gas filled the streets, forcing the protesters to retreat. Some, however, apparently tried to resist and erect barricades.
The RT crew covering the events was "pushed up the streets into the tear gas and into the protesters" by the police. "It is really absolutely crazy on the streets of Paris," Dubenskij said.
"I have a bit of difficulty opening my eyes right now because we have just been in the midst of all this tear gas. It makes your eyes red and it is really hard to open them. At this moment, they are just burning uncontrollably."
Paris saw massive riots on Saturday as thousands of people took to the streets to vent their anger over rising fuel prices and a planned fuel tax.
Think your friends would be interested? Share this story!
You can share this story on social media: