Assange-Manafort meeting claim backed by anonymous sources, what else do 'collusion skeptics' need?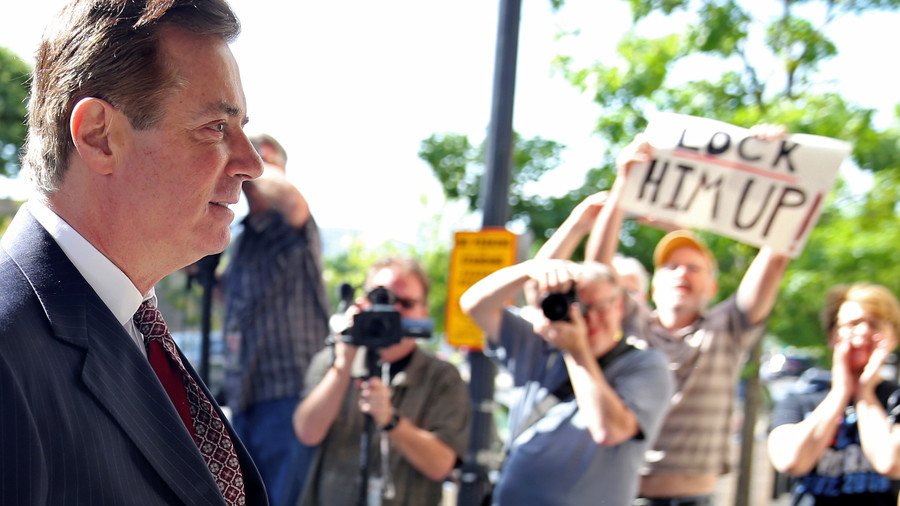 A bombshell Guardian claim that US President Donald Trump's campaign manager secretly met with WikiLeaks publisher Julian Assange lacks any verifiable sources, standing solely on its authors' reputations. Is that enough?
Written by Luke Harding and Dan Collyns and published earlier this week, the article claims that Paul Manafort secretly met with Assange at the Ecuadorean Embassy in London, unseen by security cameras and unnoted in security logs – not once, not twice, but three times.
In the total absence of verifiable information, the story has come to be judged by the credibility of its authors. Harding has been hailed as a reputable reporter and the story as a slam-dunk by a range of figures, from journalists who have previously flogged tall tales from Christopher Steele's salacious "Trump-Russia dossier," to professional Russia-haters at the Atlantic Council and #Resistance Twitter activists.
On the other side of the fence were doubters, like former Guardian columnist Glenn Greenwald and former UK diplomat Craig Murray.
So is Harding credible enough to prop up this story, in the absence of any other corroboration? In a word, hardly.
Long the Guardian's correspondent in Moscow, Harding has developed a reputation for being self-obsessed, paranoid and delusional, seeing leather-clad FSB assassins behind every open window. In 2007, he was honored with the 'Plagiarist of the Year' award by British magazine Private Eye, for cribbing an article about Russian oligarchs from Mark Ames and Yasha Levine, writing in eXiled.
Assange himself –back in 2015, when he was allowed internet access– pilloried Harding's book about NSA whistleblower Edward Snowden as "a hack job in the purest sense of the term… full of flatulent tributes to The Guardian and its would-be journalists."
"It is a book by someone who wasn't there, doesn't know, doesn't belong and doesn't understand. Where the book is accurate, it is derivative. And where it is not derivative, it is not accurate."
It is worth noting that Harding's co-author on the Snowden book was the same David Leigh, then a senior editor at The Guardian, who caused the publication of unredacted State Department cables by using a password to the archive as a header in his book about WikiLeaks. That publication, by the way, is why the US has reportedly secretly indicted Assange and is looking for his extradition.
Also on rt.com
Schrodinger's indictment? US prosecutors oppose unsealing presumably nonexistent Assange charges
Harding is involved in that process as well, authoring a piece in September claiming that Russia had a secret plan to help Assange escape from both the Ecuadorean embassy and the UK. Investigative journalist Gareth Porter dissected it on Monday, concluding that the story was "an obvious fabrication, intended to justify the agreement to deprive Assange of his asylum in the embassy by linking him with the Kremlin."
Last year, Harding published an entire book flogging the evidence-free "Russiagate" narrative, calling it –what else?– "Collusion." Yet when asked to actually corroborate his claims, he offered "context" and assertions, infamously ditching the interview with The Real News' Aaron Mate after calling him a "collusion skeptic."
The Guardian has already stealth-edited the story with equivocating language, backing down from Collyns and Harding's assertions. Meanwhile, WikiLeaks is willing to wager $1 million "and its editor's head" that Manafort never met Assange, and is raising money to sue the Guardian for libel.
Like this story? Share it with a friend!
You can share this story on social media: