Ukraine to declare martial law after sea clash with Russia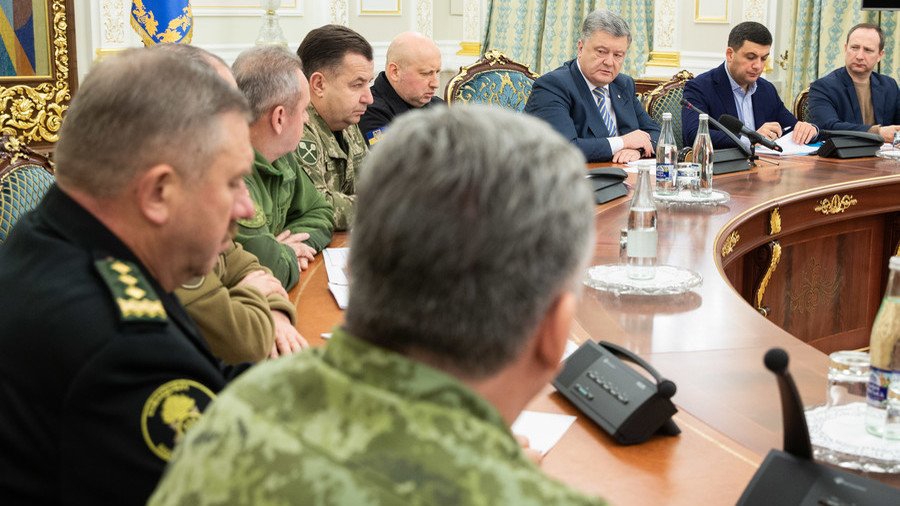 Ukrainian President Petro Poroshenko has said that he will propose declaring martial law in the wake of an altercation in the Black Sea that saw Russian military seize Ukrainian vessels for breaching Russian territorial waters.
On Sunday, three Ukrainan vessels were sailing between two Ukrainian ports: from Odessa in the Black Sea to Mariupol in the Azov Sea. The only waterway that connects these is the Kerch Strait between Crimea and mainland Russia. Kiev says it notified Moscow in advance that its navy ships would be sailing through the area. Moscow denies that it was given proper warning.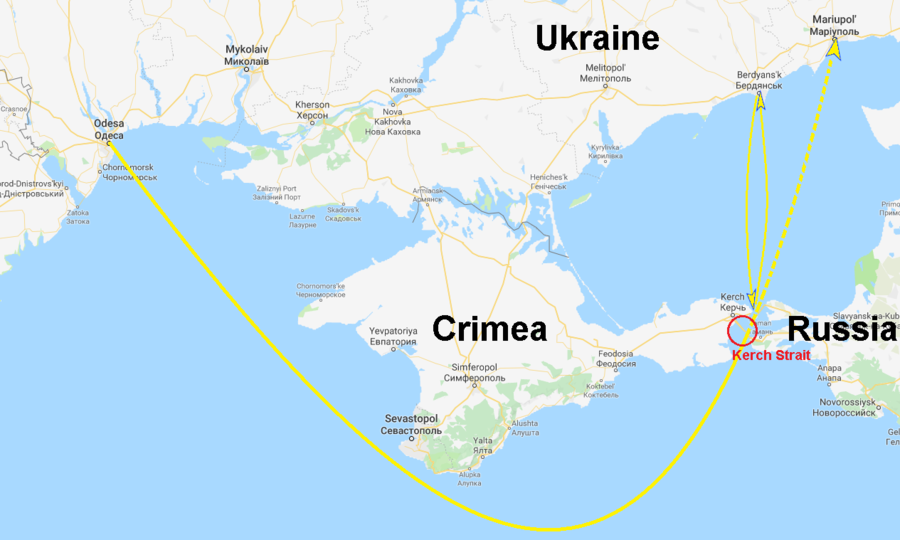 While both Russia and Ukraine have freedom of navigation in the Kerch Strait under a 2003 treaty, there are detailed technical rules on how vessels should pass through the narrow, complex waterway. Because all traffic in the area is controlled by the Crimean sea port of Kerch, every ship should contact the facility, report her route and destination, and receive permission to sail through the Strait.
Russian ships opened fire to stop the three Ukrainian boats after they ignored "legal demands to stop" and performed "dangerous maneuvers," said the Russian Security Service (FSB). The ships were then seized and towed to the Crimean port of Kerch.
Around midnight, Ukrainian President Petro Poroshenko instructed the National Security and Defense Council of Ukraine (NSDC) to convene for an emergency meeting proposing to impose martial law. The council has moved forward with the motion and declared martial law for 60 days. The motion will now go before the Ukrainian parliament, the Verkhovna Rada, for final approval.
The Ukrainian leader says Kiev does not plan to carry out any offensive operations if martial law is imposed.
Speaking at a press conference after the meeting, Poroshenko said that Kiev has asked NATO and the EU to "coordinate our actions to ensure the protection of Ukraine."
"We appeal to the whole pro-Ukrainian international coalition: We must unite efforts," Poroshenko said, adding that he would discuss further steps with NATO Secretary-General Jens Stoltenberg on Monday.
Talks with the leaders of Ukraine-allied countries have also been planned for Monday, he said.
Poroshenko sought to assure the public that Kiev's decision to impose martial law will not infringe upon the rights and freedoms of its citizens, noting that Ukraine will only carry out defensive actions to protect its territory and people.
He claimed that the imposition of martial law will not affect the standoff in the breakaway Lugansk and Donetsk Republics, which have been in a shaky state of truce with Kiev.
On Monday afternoon, the Ukrainian leader demanded Russia releases the sailors and ships as a "first step to deescalate the situation in the Azov Sea." Russian officials earlier said that several sailors were injured in the incident on the Black Sea and were taken to hospital.
Moscow has not responded to Poroshenko's statement so far.
Martial law with a looming election
Martial law allows the Ukrainian government to limit a range of civil freedoms otherwise protected by the constitution, such as the freedom of the press, freedom of movement, and the freedom of assembly.
Under martial law, Kiev can, for instance, introduce restrictions on travel up to barring residents from leaving the country altogether. Martial law also envisages stricter control at border checkpoints, which may include thorough searches of vehicles, cargo, and other belongings.
The move also allows for increased control over the media. Publications, TV and radio channels can be shut down if considered to constitute a threat to Ukraine's national security.
Martial law gives authorities the right to ban peaceful rallies, protests and demonstrations, as well as other mass actions. It also potentially allows banning activities by political parties and public associations.
In addition, neither the upcoming presidential, nor parliamentary elections can be held with martial law in place. However, since martial law can only last for 60 days unless extended, it is set to expire before the votes, which are scheduled for March and October respectively.
The proposed martial law comes some four months ahead of a presidential election in Ukraine, with Poroshenko's ratings hitting rock bottom. According to a recent poll, only 7.8 percent of Ukrainians are ready to cast their ballots for the incumbent leader in the March vote. The race is being topped by former Ukrainian Prime Minister Yulia Tymoshenko with some 18.5 percent of the vote. Poroshenko is even trailing behind a famous Ukrainian comedian, Volodymyr Zelensky, who is in second place with 10.8 percent – despite the fact that he hasn't yet confirmed if he is running.
You can share this story on social media: