Ukrainian vessels heading to Kerch Strait from Azov Sea on way to their port – FSB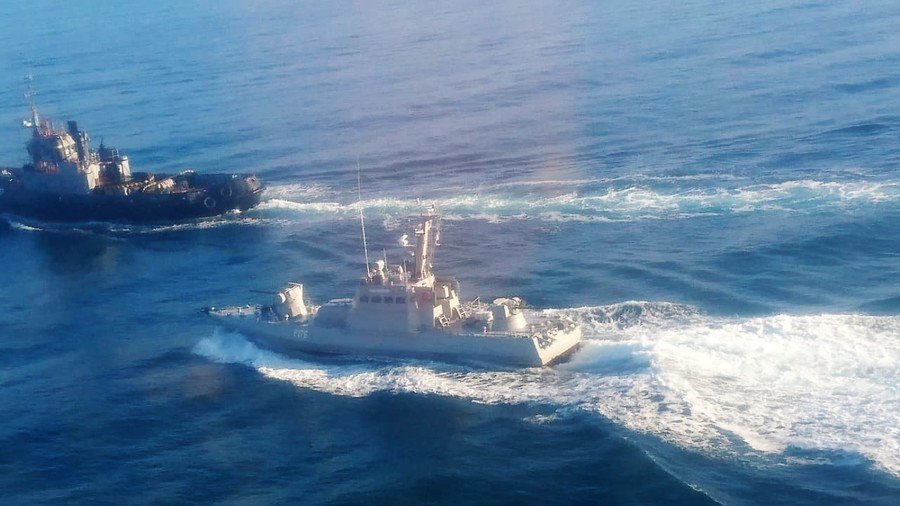 A group of Ukrainian Navy ships that were approaching the Kerch Strait lying between Crimea and mainland Russia have retraced their course and are returning to their ports, the Russian Federal Security Service (FSB) said.
This group departed from the Ukrainian port of Berdyansk on the Azov sea to the east of Crimea straight around 11.30 Moscow Time (08.30 GMT) on Sunday and set a course for the Kerch Strait. A few hours before that another group of vessels entered Russian territorial waters from the west Crimea. They hadn't made proper application for passing through the Kerch Strait. They refused to follow orders from the Russian Border Guard vessels.
The video released by Russian authorities show border guard ships pursuing Ukrainian vessels that maneuvered dangerously close to them.
The Ukrainian Navy said that its vessels were sailing as part of a scheduled routine transfer, at some point, adding that it warned the Russian authorities about it in advance. The Ukrainian military also accused Russian border guards of firing at their ships and seizing three of them.
Now, the FSB said it has obtained "irrefutable evidence" of a provocation planned by the Ukrainian Navy.
While both Russia and Ukraine have freedom of navigation in the Kerch Strait under a 2003 treaty, there are detailed technical rules on how vessels should pass through the narrow, complex waterway. Because all traffic in the area is controlled by the Crimean sea port of Kerch, every ship should contact the facility, report her route and destination, and receive permission to sail through the Strait.
If you like this story, share it with a friend!
You can share this story on social media: