En garde! Jewelry store staff fight back with swords as masked bandits break into shop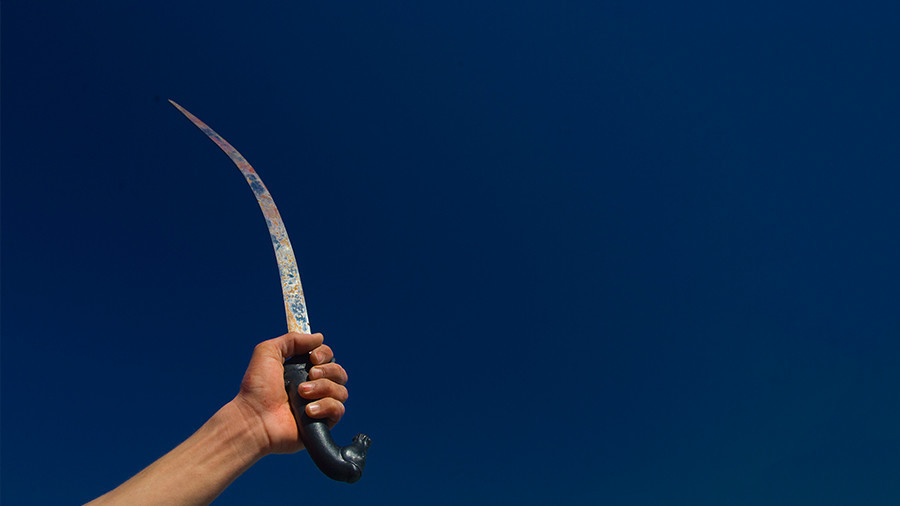 Sword-wielding jewelry store workers have fought off a gang of robbers in a brazen, yet failed, daylight heist in Canada. Shocking security footage shows the precise moment workers fought back, armed with enormous blades.
Four masked bandits, armed with sledgehammer and guns, bit off more than they could chew just after midday on Thursday when they tried to break into this Canadian jewelry store.
CCTV footage that captured the audacious attempted robbery shows the gang of crooks smashing through the window of Ashok Jewelers. Staff and customers take cover as one of the disguised assailants pokes a handgun through the broken glass.
What the cameras also caught was the moment that staff, who ducked for cover, come back fighting with a vengeance and waving enormous sabre-style swords.
One of the thieves jumped straight back out the window. Another tried to climb through it again but retreated as three staff members continued brandishing their weapons.
The failed looters then retreated, with police confirming in a statement that they made off in a dark SUV.
Constable Danny Marttini from Peel Regional Police has urged others not to take matters into their own hands. "It could have easily turned into a completely different situation. We could have been looking at numerous people being injured," Marttini told Global News Canada.
This is the second failed attack on a jewelry shop in the neighborhood. In July, the owner of a store only 100 metres away from Ashok Jewellers stopped looters in their tracks when he produced a sword to defend the property.
Like this story? Share it with a friend!