Two police officers killed as insurgents attack Chinese consulate in Pakistan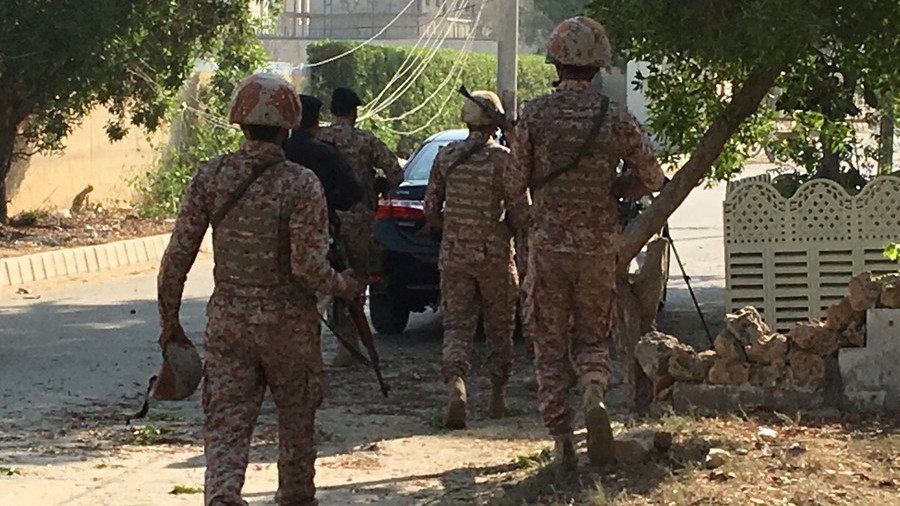 Two police officers were killed and a security guard wounded as suicide bombers stormed Chinese consulate in Karachi, Pakistan. The Balochistan Liberation Army insurgent group claimed responsibility for the terrorist attack.
On Friday morning, three gunmen attempted to break into the Chinese Consulate in the diplomatic quarter of downtown Karachi, southern Pakistan. The assailants used an explosives-rigged vehicle and at least one of them was wearing a suicide vest, police say.
The militants failed to enter the consulate building, and a firefight at the security checkpoint broke out. Witnesses said they heard heavy gunfire, as well as several blasts. A heavy contingent of police and security forces was deployed in the area.
Videos filmed near the consulate show smoke rising around the buildings.
The attack claimed the lives of two police officers and one security guard was wounded. All three gunmen were killed, the Karachi police chief said.
The Chinese Consul General is safe and no Chinese nationals were harmed.
The Balochistan Liberation Army insurgent group claimed responsibility for the attack. The organization was banned in Pakistan in 2009 under anti-terrorism laws.
READ MORE: 85 killed in suicide attack at Pakistan election rally – Health minister (VIDEO)
The BLA spokesperson blamed China for "exploiting" the nation's "resources."
Beijing is one of Pakistan's chief economic partners. The two states have engaged in several major investment projects.
Pakistani Prime Minister Imran Khan branded the attack a "conspiracy" against Pakistani-Chinese strategic cooperation and ordered an investigation.
Think your friends would be interested? Share this story!
You can share this story on social media: