Hypocrisy overload? Hillary Clinton tells Europe to stem refugee flow to avoid 'populist politics'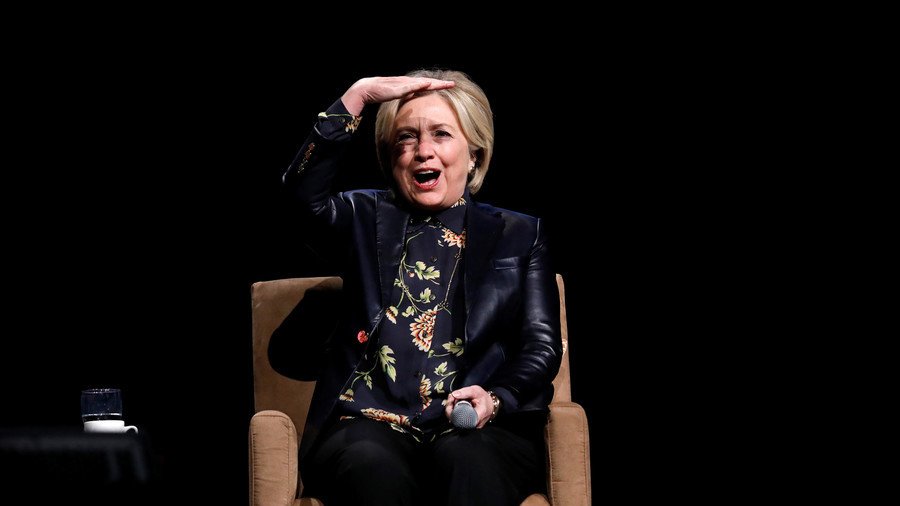 It wasn't too long ago that Hillary Clinton famously celebrated the intervention that turned Libya into a failed state and hotbed for terrorism. Now she's telling Europe to 'curb' immigration from North Africa and Middle East.
Speaking to the Guardian as part of a series of interviews with "senior centrist political figures" about the rise of right-wing populism, Clinton mused that Europe "needs to get a handle on migration" because the influx of refugees from the Middle East and Africa in recent years is "what lit the flame" of support for anti-immigration political figures.
Harrowing scenes of boats full of refugees, many of them from Libya, have caught the world's attention in recent years, as hundreds of thousands of refugees and migrants have tried to make their way to Europe. Neither Clinton or the Guardian article, however, mention the fact that they are coming in droves from countries which the United States has relentless bombed and destabilized with failed military interventions.
The NATO-led 'humanitarian intervention' in Libya — a decision which Clinton herself was instrumental in making — turned what was once the richest country in Africa, into a failed state and hotbed for terrorism and the slave trade. "We came, we saw, he died!" Clinton exclaimed cheerfully upon hearing the news of Colonel Muammar Gaddafi's brutal death, during which he was sodomized with a bayonet by rebels.
Clinton:"I think Europe needs to get a handle on migration b/c that is what lit the flame"Yes, people fleeing indiscriminate US/Euro bombing of Afghanistan, Iraq, Syria, Libya, Pakistan, Somali, & Yemen "lit the flames"—not the mass murder of brown ppl😑https://t.co/wvi5i677DJ

— Qasim Rashid, Esq. (@MuslimIQ) November 22, 2018
Clinton said she admires the "very generous and compassionate approaches" that were taken toward the crisis by leaders like German Chancellor Angela Merkel, but now Europe "must send a very clear message" that it is "not going to be able to continue provide refuge and support" because doing so would continue to "roil the body politic."
Clinton's comments aren't likely to go down well with progressives in her own country, who may see her reasoning as a roundabout way of saying Europe needs to use populism to stop populism. Her comments have already been met with swift criticism from liberals on Twitter — and her sudden turn to her own brand of populism caused some to speculate that she would run for president again in 2020.
Hillary Clinton believes the key to stopping populists is *checks notes* giving them what they want & playing to their xenophobia & racism https://t.co/k5dPmGWnGl

— priscilla page (@BBW_BFF) November 22, 2018
"I think Europe needs to get a handle on migration because that is what lit the flame" of white nationalism there, said @HillaryClinton. That is a sickening capitulation on her part. You don't stop racism by giving in to racists. https://t.co/UbsYvRDv5c

— Jamil Smith (@JamilSmith) November 22, 2018
Europe has struggled to come to any agreement on how to deal with an influx of refugees and countries like Germany, Greece and Italy have borne the brunt of it, while a number of countries in eastern Europe balked at the idea of taking in thousands of refugees. Since 2015, the number of migrants traveling to Europe has dropped off significantly, however.
The failed presidential candidate also blamed concerns over race and identity issues for her losing some votes during the 2016 election — just one of many reasons she has offered to explain her defeat.
Clintonism's doctrine of granting major substantive policy concessions that cause substantial human suffering in exchange for political victories hasn't changed much since the 1990s but I don't think it's where the Democratic Party base is now https://t.co/KJhOB4jVEQ

— Tacchino è buono 🍝 (@AdamSerwer) November 22, 2018
Clinton says Europe should make clear that "we are not going to be able to continue provide refuge & support." Isn't this the attitude we denounce Trump for? Speaking of irony, Clinton's regime wars in Libya & Syria (& Iraq, indirectly) fueled the migration she wants to stop. https://t.co/CIkkGRRKNd

— Aaron Maté (@aaronjmate) November 22, 2018
Clinton said that US President Donald Trump had exploited worries about immigration and said there were "solutions to migration" which don't involve "clamping down on the press" or political opponents — a likely reference to the White House's decision to rescind a press pass from CNN reporter Jim Acosta earlier this month after a tense exchange over migration during a press conference.
fair play spending two years reflecting on how you managed to lose an election to a banksy cartoon of a fascist, and then coming to the conclusion it was because you didn't promise to build an even bigger wall https://t.co/sjuYm6uhVU

— Stan The Golden Boy (@tristandross) November 22, 2018
The former Secretary of State said that populist politicians were appealing to a psychological "yearning" people had to be "told what to do, and where to go, and how to live" — an interpretation which many people would likely take issue with. Clinton also suggested that voters might just be "tired of" the American system, which was designed to "eliminate the threat from a strong, authoritarian king or other leader."
"I don't know why at this moment that is so attractive to people, but it's a serious threat to our freedom and our democratic institutions, and it goes very deep and very far and we've got to do a better job of shining a light on it and trying to combat it," she said.
Think your friends would be interested? Share this story!
You can share this story on social media: