Hillary Clinton: I was victim of '1,000 Russian agents' & 'broad assumption' I would win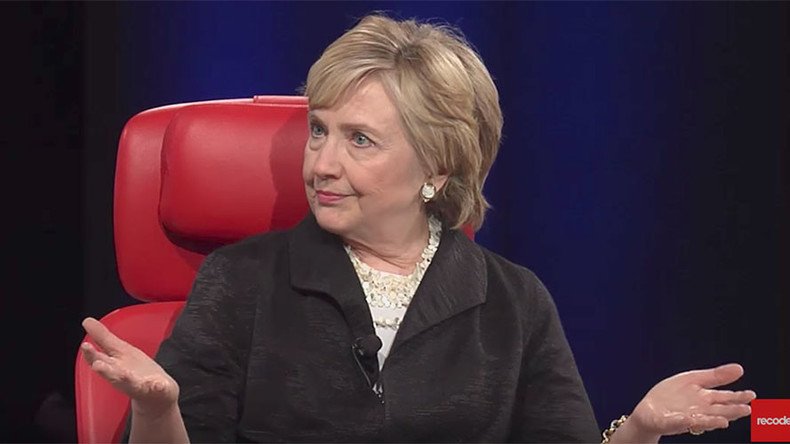 In her latest public appearance, former Secretary of State Hillary Clinton blamed the Democratic Party, the media, "weaponized information" and even a thousand Russians for her loss to Donald Trump in the 2016 presidential election.
Clinton told an audience at the annual Code Conference in Ranchos Palos Verdes, California, on Wednesday that the most important lesson from the election was the new "war" on information.
Clinton, 69, said she takes responsibility for "every decision" she made, but added, "That's not why I lost."
Her comments sparked outrage from many on Twitter, including President Donald Trump, who said Clinton "refuses to say she was a terrible candidate." WikiLeaks founder Julian Assange called Clinton's comments "sad."
Crooked Hillary Clinton now blames everybody but herself, refuses to say she was a terrible candidate. Hits Facebook & even Dems & DNC.

— Donald J. Trump (@realDonaldTrump) June 1, 2017
It's sad to see language like this from Hillary @Recode "I take responsibility for every decision I made but that's not why we lost."

— Julian Assange (@JulianAssange) May 31, 2017
Clinton then went on to cite all the reasons she lost, including the media coverage of her use of a private email server "like it was Pearl Harbor," when really it was "the biggest 'nothing burger' ever," she said.
Hillary Clinton appears totally and completely incapable of self-reflection about the email behavior that arguably cost her the presidency.

— Ken Dilanian (@KenDilanianNBC) May 31, 2017
However, at the same time, Clinton also feels she was "the victim of the very broad assumption" that she was going to win.
"I never believed it, I always thought it would be a close election because our elections are always close." Clinton said.
Clinton also cited alleged Russian interference with the election as one of the major reasons for her loss, stating that Americans helped "weaponize" information to use against her campaign.
"The Russians, in my opinion, and based on the Intel and Counter-Intel people I've talked to, could not have known how best to weaponize that information unless they had been guided," Clinton said, adding that they were "guided by Americans."
She went on to say that the "vast majority" of news about her on Facebook was "fake," and said stories like "Pizzagate" helped swing "low-information voters."
She claimed that there were "1,000 Russian agents involved in delivering those messages," but did not cite a source.
Clinton also blamed the Democratic National Committee (DNC), which she described as "bankrupt" and "on the verge of insolvency" during her campaign. She claimed that the DNC's data was "mediocre to poor, nonexistent, wrong" and claims she had to inject money into the DNC to keep it running.
Hillary spent, what, twice as much as Trump and is now blaming an underfunded DNC?

— jimgeraghty (@jimgeraghty) May 31, 2017
When asked why she didn't visit Wisconsin or other states that Trump won, Clinton blamed the DNC's bad information.
She then compared it to the Republican National Committee, which she called a "tried and true, effective foundation."
The panel asked Clinton about several judgments she made before and during the election, which could have caused her to lose. At one point, they asked her about the three speeches she made to Goldman Sachs just before running for president.
When the conference moderators asked her why she made the speeches, Clinton answered simply: "They paid me."
Clinton is asked why she did Goldman Sachs speeches.
HC: "Why do you have Goldman Sachs here?"
Recode: "They paid us."
HC: "They paid me"

— Kaitlan Collins (@kaitlancollins) May 31, 2017
Clinton was paid a total of $675,000 for the three Goldman Sachs speeches.
When Clinton was asked if she would consider running for president again, she simply replied, "No."
You can share this story on social media: