Twitter CEO Dorsey unleashes 'hate speech' storm with sign denouncing India's caste system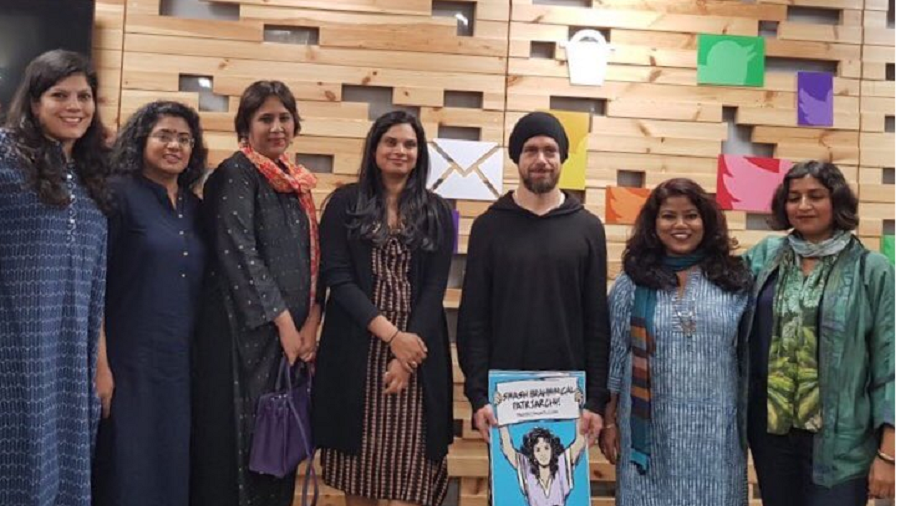 Twitter CEO Jack Dorsey is facing accusations of inciting hatred and violence in India, and has upset both activists and Hindu nationalists, by holding a sign denouncing the Hindu caste system.
Dorsey posed for a picture with six women in India brandishing a poster that read "Smash Brahminical patriarchy" during a visit last week to discuss the role of Twitter in the country.
After the photo was posted on the social media platform on Sunday evening, Dorsey was quickly accused of inciting hatred and violence against Hindu nationalists and India's Brahmins, the highest group who sit atop the rigid caste hierarchy.
A policy officer for Twitter later apologised to offended users, telling them neither Twitter nor Dorsey endorsed the message that the caste system and male dominance should be dismantled, which in turn angered Indian activists who oppose the patriarchal system.
READ MORE: Tiger pursues terrified tourist 'prey' through wildlife park (VIDEO)
The legal director of Twitter Vijaya Gadde, who was also at the off-the-record meeting, apologised to users explaining that they were gifted the poster and the photo was intended to be "private." Gadde acknowledged they should have "been more thoughtful".
The response was less than satisfactory for activists who questioned why Twitter wouldn't endorse a message to denounce an oppressive system. The uploaders of the photo also accused Dorsey and Gadde of "throwing us under the bus to save your skin", claiming the image was not, in fact, "private" but was captured by a Twitter rep and mailed to the group to share.
Like this story? Share it with a friend!