Tiger pursues terrified tourist 'prey' through wildlife park (VIDEO)
Published time: 13 Nov, 2018 12:52
Edited time: 14 Nov, 2018 08:55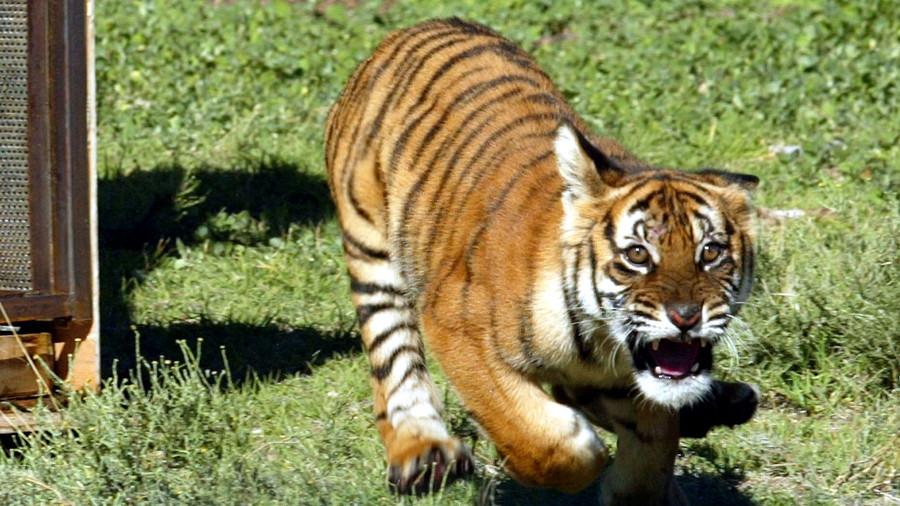 A group of terrified tourists, on safari in India, were forced to flee for their lives after a spooked tiger turned on them, chasing them through a wildlife park.
The group had set out to catch a glimpse of one of the big cats at the Tadoba National Park in Maharashtra but got much more than they bargained for when they finally tracked down the wild animal.
In heart-stopping video footage, filmed by one of the park visitors, the group can be heard shrieking in terror while the animal tracks their speeding open-top jeep through the jungle at a swift pace.
At the tail end of the footage, the group can be heard nervously laughing, suggesting that the tiger was finally giving up its pursuit.
A park official said the tiger involved in the hot pursuit is a female named Choti Madhu, a "sub adult cub", and claimed the chase was playful and not mean as an attack.
READ MORE: Tiger v bear: Violent safari scrap caught on camera (VIDEO)
"She chased the tourists just playfully and not to attack. If she really wanted to attack, she would have pounced on the vehicle," the park official claimed.
The tourist video was filmed on September 12, but the dramatic footage of their close encounter only recently appeared online.
Tadoba is Maharashtra's oldest and largest national park, created in 1995 and covering a 625-square-kilometer area. Earlier this year, an epic and violent battle between a male tiger and a female sloth bear was filmed at the reserve.
Like this story? Share it with a friend!