Final step: Russia & India sign deal on 4 frigates construction and navy transfer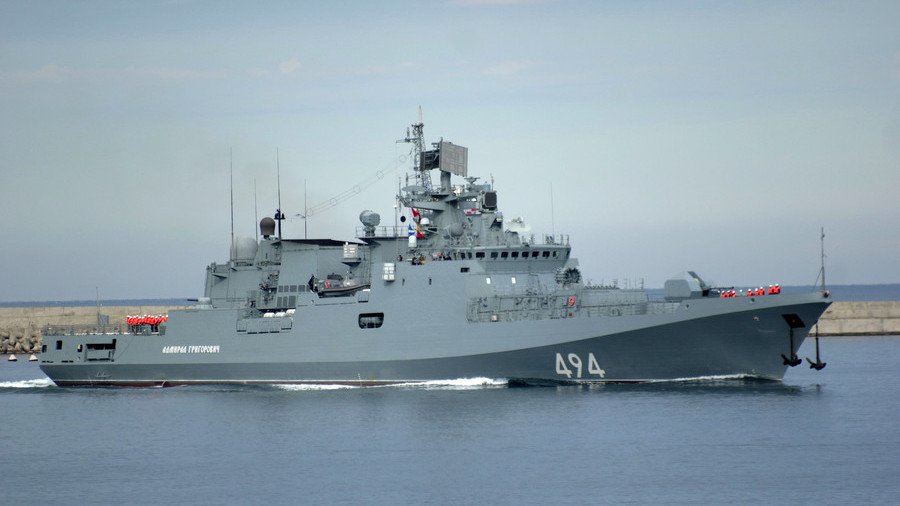 Moscow and New Delhi sealed a deal on four Russian guided-missile frigates for the Indian Navy. The two warships will be built in Russia's Kaliningrad region, and two more are to be constructed on a shipyard in India's Goa.
The major deal consists of two separate contracts, with one signed on Tuesday and another one concluded last month, Russian media reported, citing defense officials.
In total, India will get four Admiral Grigorovich-class frigates. The ships are designed to strike all types of enemy vessels, as well as submarines. They are equipped with the newest Russian 3M-54 Kalibr cruise missiles, which saw action hitting militants' targets in Syria, and may host attack helicopters.
Chairman and Managing Director of the Goa Shipyard, Shekhar Mital said that the contract for the two ships constructed in Goa is worth $500 million, and the vessels will be ready in 2026-2027. Earlier reports suggested that the whole deal, together with the two frigates built in Russia, will amount to $2.2 billion.
The two nations have enjoyed strong military ties since the Soviet times. The Indian Navy has bought numerous Russian warships over the years, including its sole aircraft carrier 'INS Vikramaditya', a former Soviet-era project, which underwent a thorough modernization in Russia.
India already operates six Russian-built Admiral Grigorovich-class frigates. The first pack of three ships was delivered in early 2000s, and the second pack came in 2012-2013.
In recent years, India experienced difficulties in getting Russian military equipment due to the risk of violating the provisions of the US Countering America's Adversaries Through Sanctions Act (CAATSA), which targets countries that purchase arms from Russia. The US officials tried to pressure New Delhi into scrapping its talks to buy Russian-made S-400 air defense missile systems. Indian officials refused to abandon the deal and the contract for five S-400s was ultimately signed in October.
Washington eventually promised to grant India waivers on buying certain types of Russian arms in exchange for strengthening military cooperation with the US. Blanket waivers, however, are not to be expected, government officials have warned.
"We continue to have conversations with the Indian leadership on ways that we are working to hold Russia accountable for its behavior," Principal Deputy Assistant Secretary of State for South and Central Asia, Alice Wells told reporters back in September.
Think your friends would be interested? Share this story!
You can share this story on social media: