Life in fear: Report says 1 in 3 US drone-strike deaths in Yemen are civilians, including children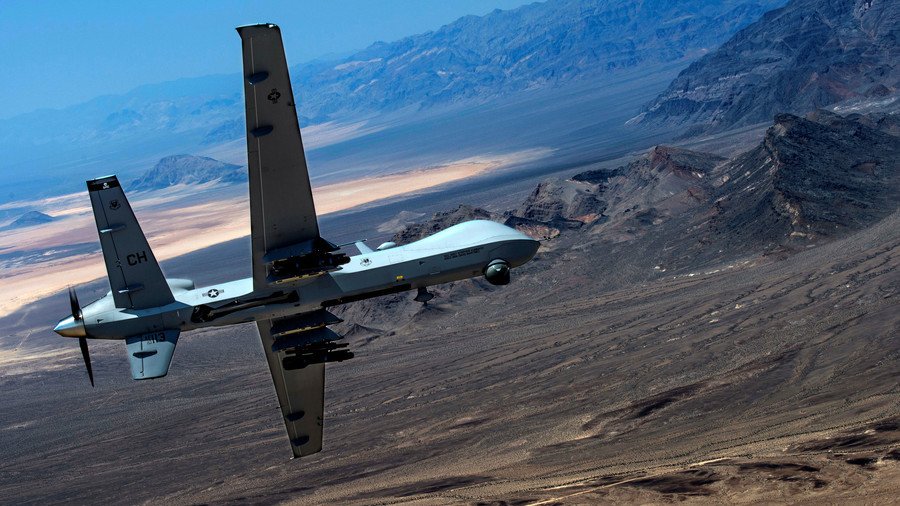 Bombings by the Saudi-led coalition may have devastated Yemen, but the country faces another deadly threat in the sky – US drones. A third of those killed by them in 2018 were civilians, including children, according to a report.
"We live in fear. Drones don't leave the sky," said one farmer, describing the day that two of his relatives were killed in a US drone strike. His is one of several testimonies recorded in a new report by Associated Press documenting the rising civilian death toll caused by the US drone war against Al-Qaeda's Yemeni franchise.
While gathering an official toll of civilian deaths caused by US drone strikes is difficult – due to the inability to confirm identities or allegiances – estimates by AP show that a third of those killed so far in 2018, or some 30 people, were not members of the terrorist group. Some 215 civilians were killed by drones since the campaign started in 2002, according to the Bureau of Investigative Journalism.
Some drone strikes kill several people in one family, as happened in January 2018 when a car full of civilians looking for a lost boy was struck by a US drone. Seven were killed in the strike, including five of the boy's family.
In an interview with RT, Saleh Farag, the boy's uncle, displayed pictures of the charred vehicle, and said: "It was a drone missile that killed them."
Another incident documented by AP and confirmed by local human rights activists recounted how a 14-year-old shepherd and a passing construction worker were killed in a drone strike. The area where they were killed was several miles from where Al-Qaeda had previously attempted to seize a checkpoint.
Ramping up under Trump
Washington's campaign to take out the branch, better known as Al-Qaeda in the Arabian Peninsula or AQAP, has been ongoing since 2002. However, the campaign has been turbo-charged in recent years.
Approaching the end of his second year of office, US President Donald Trump has overseen 176 drone strikes, already beating the 154 operations conducted during the entirety of the Obama administration, according to AP figures. There were over 100 strikes in 2017 alone, several times more than in any other year since the beginning of the drone campaign, according to TBIJ data.
The hunt for Al-Qaeda's head in the region led to 66 civilian deaths during two strikes in 2009 and 2017, including 31 children.
Drone strikes are conducted by US Air Force personnel, far removed from the killing zones in secluded consoles located in the US, although the final decision to issue a kill order is made by higher officers.
Often exhausted from working 11- to 14-hour shifts, drone teams have regularly mistaken civilians for military targets by misjudging "suspicious patterns of behavior" on their screens. Serious punishment for such mistakes, however, is non-existent.
Speaking about this lack of accountability, Brandon Bryant, a former US drone operator, told RT: "Really no one inside holds each other accountable. If someone screws up, they just get a slap on their wrist and everything is ok."
'The stuff of nightmares'
While the civilian death toll at the hands of US drones is concerning and with little oversight, it pales in comparison when compared to the carnage and destruction wreaked by the Saudi-led, US-backed intervention in Yemen's civil war.
Since fighting broke out in 2015 after Houthi rebels rose up against the government, more than 57,000 people, both civilians and fighters, have been killed.
Famine and disease, exasperated by a Saudi-led blockade of aid through the Houthi-held port city of Hodeidah, threatens millions of others, with the situation described by the UN's World Food Program chief as a "catastrophe" and "the stuff of nightmares."
READ MORE: Starving children face 'imminent risk of death' due to Saudi assault on Yemeni city, UNICEF warns
Backing the embattled Yemeni government, the Saudi-led coalition's air war against the Houthis has come under increasing scrutiny in Western media, for their continuing strikes on civilian targets and infrastructure.
As a result, US and UK support for the coalition, in the form of, training, intelligence gathering, refueling of coalition bombers, and arms sales, has become the target of increased outrage.
However, neither Washington nor London are planning to stop their lucrative arms deals with Riyadh and other members of the coalition.
Think your friends would be interested? Share this story!
You can share this story on social media: