Tajikistan launches first phase of hydro power station dam, set to become world's largest (VIDEO)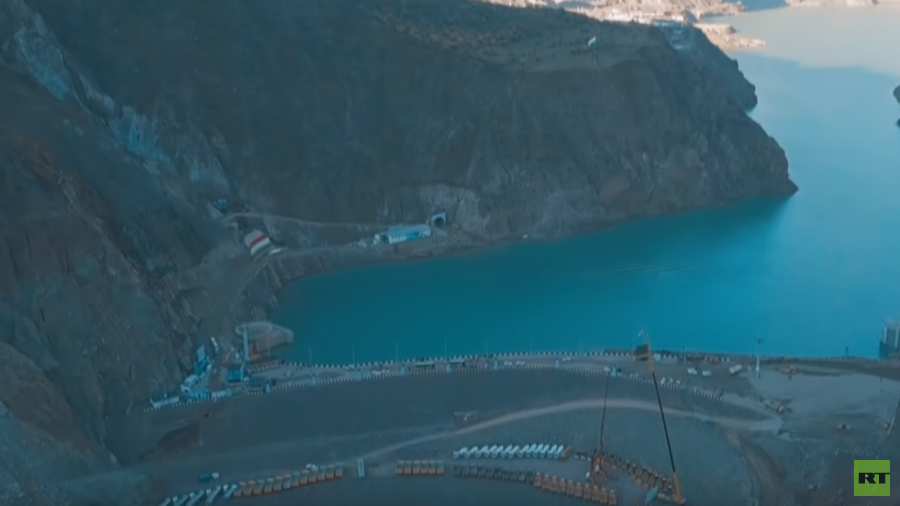 What will be the biggest dam in the world is tucked away in the mountains of Pamir, Tajikistan, in Central Asia. The stunning bird's eye view reveals the magnitude of the project and the beauty of the secluded region.
The first turbine of the new hydroelectric power plant to be built on the dam has been installed, even though it is only 75 meters tall, just less than a quarter of its projected height, which will reach a staggering 335 meters by 2026, surpassing the height of the existing tallest dam –China's Jinping-I– by 30 meters, and the famous Hoover Dam in the US by some 115 meters.
The project's price tag is $ 3.9 billion in total. "This historical date will be inscribed in golden letters in Tajikistan's modern history and will be a source of pride for the next generation," Tajik President Imomali Rakhmon said, as he launched the first turbine of the power plant. The station, called the Rogun Dam will have six turbines in total, which, together, have an installed capacity of 3,600 megawatts (MW). It is located some 100 kilometers east of its capital, Dushanbe.
READ MORE: China aims to build floating nuclear power plant by 2020
"It is a unique hydroelectric station, not everyone is capable of constructing such a structure in the mountains," Senior Engineer Sherali Imomaliev told Ruptly, apparently referring to the fact that the dam is being built in an area sometimes hit by earthquakes. However, an expert group commissioned by the World Bank agreed that the Rogun Dam's design would allow it to withstand a potential seismic impact.
Like this story? Share it with a friend!
You can share this story on social media: