Watch the Saudi desert as you've never seen it before (VIDEO)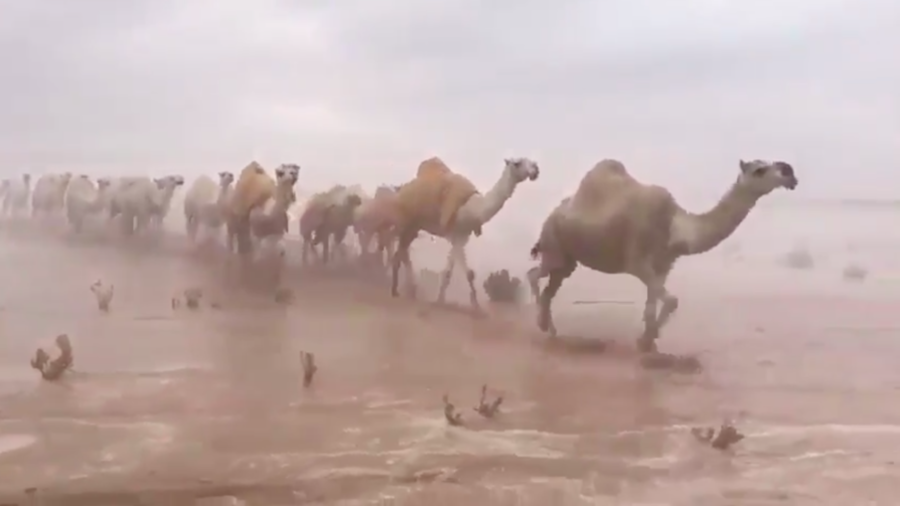 Two men lead a herd of camels through a brutal sandstorm and a haze of rain in a dramatic video that's gone viral for both its drama, and its beauty.
The video looks like a scene from an apocalyptic movie. It shows two men leading a camel through a haze of rain and sandstorm and over flooded, sandy terrain. After a moment, the camera turns and reveals a row of about twenty camels following behind.
Saudi Arabia's eastern region experienced "code red" weather over the weekend, with heavy rains, thunderstorms and strong winds turning the Saudi sands into a wet marshland by Monday.
The video was taken on a road near Tumair, north of Riyadh and filmed by photographer Fahad Al-Osaimi. The camels belong to Ayedh Al Massoud and the video was first shared by his son, Abd El-El Massoud.
"I saw camels stranded and trapped by heavy rains and floods in the central region of Tamir," Al-Osaimi told al Arabiya. The men led the camels more than 3 kilometers, trying to calm the scared animals as they went.
The video was widely shared on social media and was featured on local news channels, as many admired the dramatic footage. Unfortunately, Saudis are facing more miserable weather this week.
Think your friends would be interested? Share this story!
You can share this story on social media: